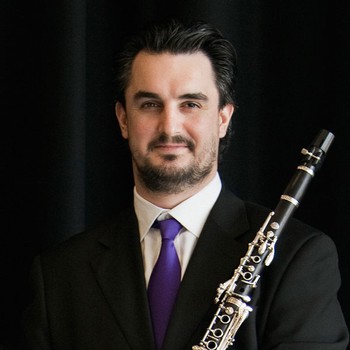 Jason Xanthoudakis
Jason was awarded his Diploma and a Graduate Diploma in Music (Performance) from the Sydney Conservatorium where he studied with Frank Celata, Mark Walton and James Nightingale.
He also studied at the Victorian College of the Arts with David Thomas, Phillip Miechel and Dr. Peter Clinch and received his Master of Music from the University of Melbourne. He has also studied in Paris, Amsterdam and London.
Jason has won the 3MBS Performer of the Year Award - Hephzibah Menuhin Memorial Award as well as many prizes in various music and concerto competitions including being a laureate at the Gisborne International Music Competition.
Jason has a busy performance schedule including performances with the Australian Opera and Ballet Orchestra, the Sydney Symphony Orchestra, Tasmanian Symphony Orchestra, Orchestra Victoria and the Melbourne Symphony Orchestra, as well as frequent solo recitals and concerto appearances with orchestras and wind ensembles in Australia.
Jason has performed several live broadcasts on Australian radio, has recorded for ABC Classic FM and the Melbourne Symphony Orchestra. He has arranged /transcribed more than 50 works for Saxophone and Clarinet and is very active in the field of Contemporary Music, encouraging composers to write music for Saxophone and Clarinet and over 20 works have been dedicated to him.
He has also written articles for various woodwind Magazines, including the Australian Clarinet and Saxophone magazine, has conducted masterclasses throughout Australia and Asia.
Artist's website: www.jasonxan.com
TrioKROMA was formed to give a voice to the charming Romantic repertoire written for piano, voice and clarinet. Performing works ranging from Schubert's popular iconic masterpiece 'Shepherd on the Rock' to exposing lost gems by composers such as Lachner, Spaeth, Proch, Lindtpaintner and Kalliwoda - TrioKROMA performs a delightful selection of works from Art Song through to the Salon and Chamber Music of the German Romantic tradition.

The winning combination of voice, clarinet and piano delighted intimate gatherings and inspired many lovely works… Australian Soprano, Elena Xanthoudakis is joined by clarinettist Jason Xanthoudakis and pianist Clemens Leske.
Performer: Clarinet