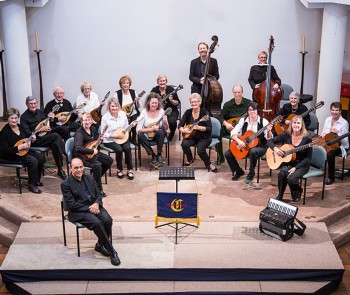 Concordia Mandolin and Guitar Ensemble
Formed in 1978, the Concordia comprises approximately 24 members playing mandolins, mandolas, guitars, mandocello, Double bass and piano accordion.
Concordia is a dedicated plucked-strings chamber orchestra, based in Melbourne's eastern suburbs. Since their inception in 1978 they have given hundreds of concerts, mostly in Melbourne and regional Victoria, but also as far afield as Italy, in 1984.
Their repertoire ranges from Baroque and Classical / Romantic, to contemporary compositions and some arrangements of popular music. They often include soloists in their concert programs, including flute, accordion, clarinet, oboe, cello, guitar, and singers.
The most recent of Concordia's five CD albums, the charming 2016 set Ringing The Strings [Move mcd557] features tracks heard on ABC Classic FM Kangarella and Midsummer Bagatelles. To learn more about Concordia, including coming concerts, please visit http://www.concordiamandolins.org.au/
Concordia Mandolin and Guitar Ensemble is featured on the following titles
Concordia Mandolin and Guitar Ensemble also appears on

A retrospective compilation of some of the highlights of the music of the late Peter Sculthorpe. Many favourites are included.
Performer

Australian composer Michelle Nelson presents 'After the Fire' a stunning new CD showcasing her work. Illustrative of Australia, past and present, this music is appealing, melodic and contemporary.
Performer: Ensemble