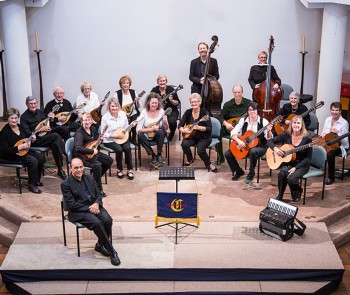 Concordia Mandolin and Guitar Ensemble
Formed in 1978, the ensemble comprises approximately 30 members playing mandolins, mandolas, guitars, one mandocello, one double bass and one piano accordion. Concordia is frequently joined by woodwind, string and vocal soloists
Its first conductor was the prominent guitarist John Griffiths, now a Professor of Music at the University of Melbourne. In 1984, Concordia, under the direction of Frank Mazitelli, toured Italy giving concerts in some central and northern cities. In 1996 the Orchestra under the direction of Basil Hawkins produced its first compac disc, 'Salut d'Amour'.
Its repertoire includes baroque, classical, romantic, contemporary and popular music. The ensemble regularly performs in many venues in Melbourne and country Victoria.
Concordia Mandolin and Guitar Ensemble is featured on the following titles
Concordia Mandolin and Guitar Ensemble also appears on

Performer
A retrospective compilation of some of the highlights of the music of the late Peter Sculthorpe. Many favourites are included.

Performer: ensemble
Australian composer Michelle Nelson presents 'After the Fire' a stunning new CD showcasing her work. Illustrative of Australia, past and present, this music is appealing, melodic and contemporary.