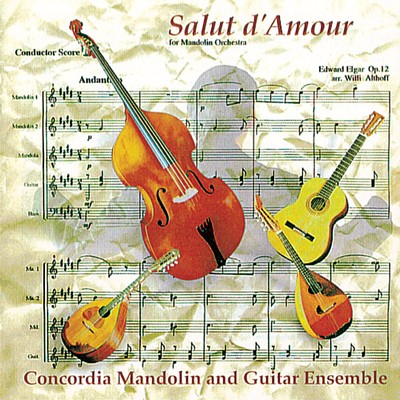 Salut d'Amour
A highly atmospheric and distinctively beautiful collection of pieces for mandolin orchestra.
Allow 'Salut d'Amour' to take you on a musical journey, from Italy to Mexico, from Spain to Germany. Concordia Mandolin and Guitar Ensemble has created a highly atmospheric and distinctively beautiful collection.
Featuring an ecclectic range of pieces from various backgrounds and ages including 'An die Zither' by Mozart, 'Folk Dance' by Robert Schulz, 'Par ci - Par la' by Biber and Elgar's 'Salut d'Amour'.
Formed in 1978, Concordia Guitar and Mandolin Ensemble consists of approximately 30 members playing a variety of stringed instruments including mandolins, mandolas, guitars, a double bass and a piano accordian.
Artist

Formed in 1978, the Concordia comprises approximately 24 members playing mandolins, mandolas, guitars, mandocello, Double bass and piano accordion.
Press quote
"All in all, the disc offers a satisfying musical experience and it is hoped it will be the first of many more."
— The Melburnian
Track Listing
European Suite Konrad Wölki 9:49

Concerto in A major (Carol Cecere)

Allegro Moderato 5:31
Largo 3:46
Grazioso 4:18
Folk Dance Robert Schulz 4:16
Par ci - Par la (Peter Biber) 3:27
Danza e Cantabile (Raffaele Calace) 5:30

Four little waltzes (Fried Walter)

Capriccioso 2:10
Elgiaco 3:15
Lirico 2:36
Valse Espagnole 3:02

Cataluna (Werner Dunnebeil)

Marcha 4:10
Serenata 3:43
Passodoble 2:49
Zufriedenheit Wolfgang Amadeus Mozart 2:10
An die Zither Wolfgang Amadeus Mozart 1:49
Salut d'Amour Sir Edward Elgar 3:45
Banderas 3:05
Katalanische Impressionen Fred Witt 8:09
Performers
Composers
Where to buy
Salut d'Amour can be purchased online through Buywell Just Classical or the Australian Music Centre which both offer secure online ordering.
This title is also available in (or can be ordered through) many fine music retailers across Australia, including Thomas' and Readings.
Product details
List price

$25.00 AUD

Total playing time

77 minutes 20 seconds

Categories

Catalogue number

MCD 080

Barcode

EAN 9314574008029