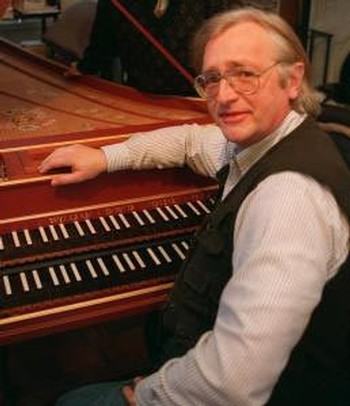 Donald Angle
Donald Angle's music comes from, or is influenced, most directly, by 20th Century Pop, Country, and Jazz, and is mostly geared to solo performance.
Don began playing in public at the age of 12, moved to Boston, MA in 1961 to study at the Berklee School (now College) of Music.
In 1962 he took a "temporary" job with the Harpsichord Maker William Dowd, and stayed 28 years. During this time of employment, he was encouraged to try some of this material on the harpsichord, and it was so well received that concerts and recordings became an increasingly important part of his activity.
He has appeared in Europe at Merseburger Orgeltage 2002, on Austrian Radio, at the Rodin Gallery in Seoul, South Korea, the John F. Kennedy Center for the Performing Arts, and the Cleveland Museum of Art. He has had four appearances with the Augusta (GA) Pops Orchestra playing his orchestrated keyboard arrangements.
Artist's website: www.donangle.com
Compositions by Donald Angle appear on

"The hottest, hippest harpsichord in the world today" said one critic of the best selling Bizarre or baRock. Melbourne harpsichordist Elizabeth Anderson has returned to the studio for the long awaited sequel.
Arranger

Elizabeth Anderson and friends put a new twist into Christmas carols and CDs: eight Christmas tracks neatly packaged as a Christmas card with a vibrant front cover and room for a personal inscription.
Composer

Elizabeth Anderson explores harpsichord music across four centuries: ranging from Conceição's raw 17th century battle piece, through traditional Baroque repertoire, to Jazz, Blues, Gershwin and the Beatles accompanied by drums and bass. Weird, wild, wacky and wonderful - you've never heard the harpsichord like this!
Composer