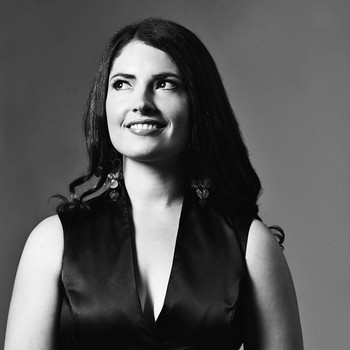 Emma Gilmartin
While her skill and training lies predominantly in Jazz and Latin styles, Emma Gilmartin is passionate about, and experienced in a variety of styles including Soul, Popular, and Celtic. She has spent much of her musical life writing her own music in an original band in Melbourne.
Born in Melbourne, Emma Gilmartin has gained a reputation as one of Australia's most talented jazz vocalists. Her voice is undeniably beautiful with "a crystalline purity of vibrato-less tone and flawless pitch that is so perfect it is almost unsettling" (Leon Gettler, The Age Green Guide)

In 2001 Emma completed a Bachelor of Music Performance (Improvisation) at the Victorian College of the Arts. It was here that she met Tony Gould, with whom she recorded her debut album, "Tomorrow, Just You Wait and See" (Move records).

Since the release of her first CD Emma has performed regularly with her jazz quartet throughout Australia. Emma's second album Songe, was released in 2005 through Move records. This CD features Will Poskitt, Ben Robertson, Rajiv Jayaweera and Eugene Ball and is a collection of jazz standards and Emma's original composition.

In 2005, Emma was selected as one of ten finalists in the National Jazz Awards. The finals were held at the Wangaratta Jazz Festival.

From 2006 to 2009, Emma toured extensively throughout Australia and the world with acclaimed Acapella/Percussion group Coco's Lunch. She also recorded Blueprint with the ensemble, which was nominated for Best World Album in the 2007 ARIA awards.
Emma's latest album Home (duets with Tony Gould) was released in late 2010.

Emma is currently teaching voice at Monash University.
"Now and then, one hears a voice which instantly suggests uncommon beauty and musicality. Add to this a sensitivity to lyrics, impeccable sense of pitch, a rare control of vibrato, and you have wonderful artistry. This is what I hear in the singing of Emma Gilmartin. It all comes from her approach to both her art and her fellow human beings."
(Tony Gould)
"a crystalline purity of vibrato-less tone and flawless pitch [that] is so perfect that it is almost unsettling."
(Leon Gettler, The Age 'Green Guide')
"There is a lightness of being in the voice ... a voice [that] must be listened to as well as heard."
(Michael Foster, Canberra Times)
"Gilmartin is a real find."
(Andrew Ford, Australian Financial Review)
Artist's website: emmagilmartin.com
Press quotes
"[Emma] sings the songs pretty much the way the composers intended - no doubt prompting approving, albeit posthumous, nods from songsmiths like Richard Rodgers and Irving Berlin, both of whom famously loathed singers who took liberties with their works."
— Steve Robertson, Music Australia Guide
"Gilmartin refurbishes a song through a crystalline purity of vibrato-less tone and flawless pitch. Indeed, her pitch is so perfect that it is almost unsettling ... Gould's legato phrasing, melodic variation and ornamentation, and his emotional impact provide an ideal accompaniment that colours the voice. Listening to their dialogue is part of the treat." ★★★½
— Leon Gettler, The Age - Green Guide
Emma Gilmartin is featured on the following titles

In 2002, Tony Gould and Emma Gilmartin recorded Tomorrow, Just You Wait and See in the peaceful surrounds of Move's recording studio. Since then they have been lucky enough to revisit this place several times to record more of their favourite songs.
Performer: Vocals

At last, Emma's follow up Album to the acclaimed 'Tomorrow, Just you wait and see' (a collaboration with acclaimed Australian pianist and composer Tony Gould), has arrived.
Performer: Vocals
Composer

With favourites such as The white cliffs of Dover, Smile and I fall in love too easily, this beautiful duet album between pianist Tony Gould and vocalist Emma Gilmartin is a masterpiece in spontaneous musical invention to be enjoyed again and again. Just you wait and see!
Performer: Vocals
Songwriter