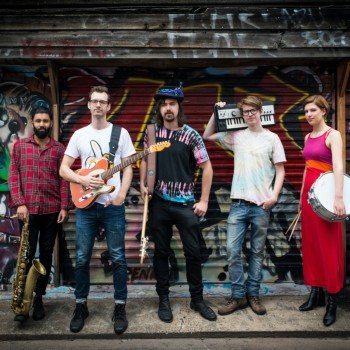 Funk Engine
Sydney-based jazz-funk group Funk Engine was formed in 2013 by Sydney Conservatorium jazz graduates led by bassist and composer Siebe Pogson.
Fusing tight funk grooves with jazz virtuosity, the band gets people on the dance floor with a pumping rhythm section - Holly Conner (drums), Nick Twiney (keys) and Siebe Pogson (bass) - and blistering solos from Felix Lalanne (guitar) and Nish Manjunath (sax). Jazz-Funk features ripping horn playing from guest artists Robert Campbell (Trumpet - Midnight Tea Party), Jacob Parks (Trombone - Hot Potato), and Sam Gill (alto saxophone), enhanced by stylish vocals from Soul legend, Pat Powell, who regularly sits in with the band.
Funk Engine is featured on the following titles

Funk Engine was formed in 2013 by a group of Sydney Conservatorium jazz graduates.
Performer
Members of Funk Engine

Siebe Pogson is a multi-instrumentalist and composer and leader of the group Funk Engine.