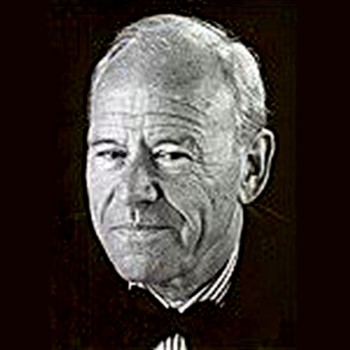 Gerald English
During a long career, Gerald English (1925-2019) enjoyed success as a performer of operatic and concert repertoire, as a recording artist and as an academic. He has given premier performances of some of the greatest works of the century and built close working relationships with such composers as Stravinsky, Henze, Britten, Tippett and Ford, often premiering their works in performances under their own direction.
Gerald was a founding member of the Deller Consort and has had many years of experience in music of the Elizabethan period. He has sung regularly for the Glyndebourne Festival, the Royal Opera at Convent Garden, La Scala and in Sydney, Adelaide, Manchester, Edinburgh, Florence, Rome, Paris and Buenos Aires. Premier performances include Britten's Nocturne with Sir John Barbirolli conducting the Halle Orchestra, Henze's We Come to the River directed by the composer at Convent Garden, Dallapicolla's Ulisse conducted by the composer in Rome and Berio's Opera for the Florence Festival. He has also premiered all the works for tenor by Andrew Ford.
In 1978 he became a resident of Australia and during the first ten years directed the opera study at the Victorian College of the Arts, Melbourne. He also supervised postgraduate vocal studies in baroque music and movement.
Gerald sang Janacek's Diary of One who Disappeared as part of the 1992 Melbourne International Festival, and in the same year premiered Andrew Ford's Harbour with the Australian Chamber Orchestra. Other recent highlights include the role of the story teller in Peter Tahourdin's Heloise and Abelard for the West Australian Opera, Ravel's Chansons madécasses with the Australia Ensemble, performances of Peggy Glanville-Hicks' Letters from Morocco with the Hunter Orchestra and the Tasmanian Symphony Orchestra, and the soloist in scenes and interludes from Ligeti's Le Grand Macabre with the Melbourne Symphony Orchestra.
In 1993 he was awarded one of the prestigious Australian Creative Artists' Fellowships. Gerald has made many recordings, including the complete works of Monteverdi for HMV. In 1994 Tall Poppies released his first solo recording since the 1970s, and the first recording of classical music that he has ever made (Schumann Lieder, TP 023). Further projects for Tall Poppies include the works of Andrew Ford (Whispers, TP053) and Peggy Glanville-Hicks (TP074). For Move Records he has recorded cantatas by Telemann, Handel and Bach with the group Il Pastor Fido (Music, Love and Passion, MD 3152 — unreleased).
For the CD that is released on Move "What if a day or a month or a year" Gerald was accompanied by Sharyn and Jonathan Rubin. Both were born in Sydney and have performed extensively throughout the world since meeting each other during their studies at the Schola Cantorum Basiliensis, Switzerland in 1976. They have been associated as continuo players with some of the finest historical performances of baroque operas. Sharyn has performed with William Christie, Michael Corboz and Helmut Müller-Braüth and Jonathan has recorded on some twenty discs with Nikalous Harnoncourt, Jean-Claude Malgoire, Michael Corboz and William Christie. In the pedagogical field they have taught in Australia, Hong Kong, Israel, Switzerland, France and Germany, and Jonathan has held the position of Lute teacher at Geneva Conservatorium of Music, since 1979.
Gerald English is featured on the following titles
Elizabethan lute songs and Ayres sung by founding member of the Deller Consort, Gerald English.
Performer: Vocal
Gerald English also appears on

The Victorian Time Machine, directed by Richard David Hames, was an instrumental and vocal ensemble which grew out of the Victorian College of the Arts. Composers on this disc are Guillaume Dufay, Richard David Hames, Barry Conyngham and James Fulkerson.
Performer