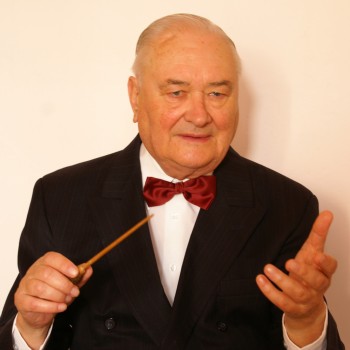 Gerald Gentry
Gerald Gentry has been a tireless promoter of contemporary music regarding the work of present-day composers as a vital and essential element in a nation's musical life.
Gerald Gentry studied music at the Guildhall School of Music and Drama in London and privately with Armstrong Gibbs, Walter Goehr and Paul van Kempen.
Beginning his career as a viola player in the 1940s, in the early 50s he was appointed a staff conductor with the BBC. Following nearly twenty years as a music consultant to the West Riding Education Department in Yorkshire, England, he migrated to Australia in 1984.
Gerald Gentry (UK 1927 – Melbourne 2014) was the co-founder and artistic director of Southern Cross Philharmonic Orchestra in Melbourne from 2004 and Vice-President of Friends of Grainger Museum for many years.
Gerald Gentry is featured on the following titles

Composers include Australians George Dreyfus, Percy Grainger, Roger Rooman and Desmond Grixti, with three European composers as a bonus. The Southern Cross Philharmonic Orchestra is conducted by Gerald Gentry.
Performer: Conductor
Gerald Gentry also appears on

This album spans nearly a quarter of a century of composition in the field of chamber music by Peter Tahourdin. The pieces reflect Peter's compositional metamorphosis and encompass a myriad of influences and themes, from Indian ragas to the Carmina Burana.
Performer: Conductor