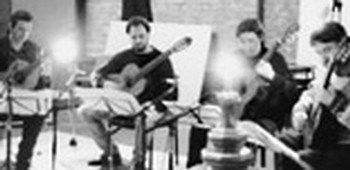 Guitar Trek
The pioneering work of this group has seen the development of a specially made family of guitars of different sizes and an exciting new repertoire for the medium.
Guitar Trek's strong popular appeal has led to immense success, with two best-selling CDs available on ABC Classics and regular touring overseas and in Australia for Musica Viva. A third Guitar Trek CD was also recently recorded by the ABC for release in 2000.
Guitar Trek appears on

The landscape and atmosphere of Australia come to life in this varied collection of solo and chamber guitar works by Australian composer, Philip Houghton.
Performer
Members of Guitar Trek
Past members

Peter is one of the new breed of fine young guitarists this country has produced in recent years, with a solo performing career extending to Italy, America and Holland as well as to capital cities and regional centres of this country.