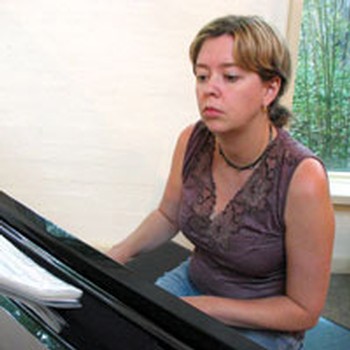 Jo Abbott
Melbourne based pianist/composer Jo Abbott studied classical piano with
Pamela Page (Qld University) and Stephen Savage (Qld Conservatorium) and
received her Bachelor of Music from Qld Conservatorium.
Following this she
worked as a composer, performer and coordinator with the Music for the Heart
and Mind series established by Brisbane based composer Rob Davidson
('Topology') and as accompanist and musical director to cabaret performer
Annie Lee specialising in the music of Kurt Weill and Agnes Bernelle. Also
an accordionist, Jo has toured nationally and internationally at festivals
such as Hong Kong Fringe Festival; Live en Aout (Noumea); Pinnacles Jazz
Festival (Brisbane) and performed at venues such as Bennetts Lane Jazz Club;
Manchester Lane; Dizzys Jazz Club; The Boite; The Famous Spiegeltent
(Melbourne Festival). Jo has studied jazz piano with Steve Sedergreen; Tim
Stevens and Bob Sedergreen and has a Postgraduate Diploma in Improvisation
(piano) from The Victorian College of the Arts.
More about The Alan Lee/Jo Abbott Jazz Quartet
John Lewis' music combines romantic and classical, blues and jazz. These pieces were originally written for the Modern Jazz Quartet, and here they live on, freshly interpreted by Alan Lee (vibraharp), Jo Abbott (piano), Ivan Rosa (bass) and Ben Hendry (drums).
Performer: Piano