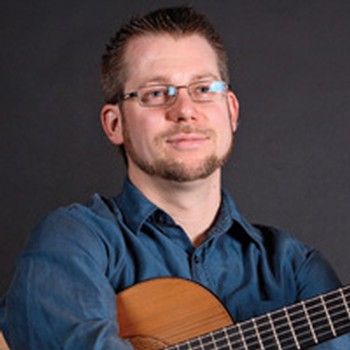 Jonathan Paget
"a fine musician with brilliant technique" [Soundboard]
"near-peerless command of the instrument which, in his hands, seemed not so much an inanimate construction of wood, varnish and glue than an extension of his musical being" [The West Australian]

One of Australia's most exciting guitarists, Jonathan Paget maintains an active performance schedule as well as teaching on a range of musical topics, from guitar to theory and music history. He is full-time at the Western Australian Academy of Performing Arts, Edith Cowan University, Perth. As a solo classical guitarist, Paget has performed throughout Australia and the US. He released his first solo CD recording in 2002, entitled Kaleidoscope, a celebration of the guitar's multicultural horizons with colourful works from around the world. Paget has won numerous competitions, including the Shell Darwin International Guitar Competition (1997), the Ramirez Australian Guitar Competition (Sydney, 1995), and the Rantucci Guitar Competition (Buffalo, 1999). He has also been a prize-winner in the Guitar Foundation of America International Solo Competition (Charleston, 1999). Paget's performances continue to garner stunning reviews, being described as "subtle, intimate artistry" [The West Australian], "extensive and rewarding innings" [Classical Guitar], and "a fine musician with brilliant technique" [Soundboard]. In a recent duo performance, the The West Australian reported on his "near-peerless command of the instrument which, in his hands, seemed not so much an inanimate construction of wood, varnish and glue than an extension of his musical being". Paget has been a frequent guest artist at the Shell Darwin International Guitar Festival. In 2007, he appeared with harpsichordist Stewart Smith, and also performed the Concerto andaluz with Slava Grigoryan (as part of Saphire) and the Darwin Festival Orchestra. Recent concerto performances have included Sculthorpe's Nourlangie, Castelnuevo-Tedesco's Romancero Gitano (for guitar and choir), and Rodrigo's Concierto de Aranjuez.
A Fulbright scholar and recipient of the coveted Hackett Studentship, Paget completed higher qualifications at the Eastman School of Music in upstate New York. Studying with the esteemed guitarist and pedagogue, Dr Nicholas Goluses, he completed the Master of Music (performance and literature), the Master of Arts (music theory pedagogy), and the Doctorate of Musical Arts (performance and literature), which included research centring on the guitar music of Peter Sculthorpe. As president of the Classical Guitar Society of Western Australia, Paget has played a significant role in the continued success of the Western Australian International Classical Guitar Ensemble Festival, which brings together some fifty guitar ensembles on an annual basis.
Jonathan Paget is featured on the following titles

Here begins an enchanted journey of magic, mischief, dreams, and romance - a fantastical world akin to that of Shakespeare's A Midsummer Night's Dream, with its capricious fairies casting love-spells over mortals lost in the woods at night.
Performer: Guitar
Jonathan Paget also appears on

A retrospective compilation of some of the highlights of the music of the late Peter Sculthorpe. Many favourites are included.
Performer