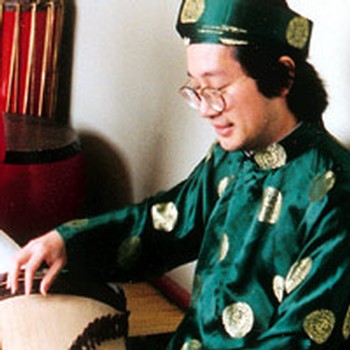 Le Tuan Hung
Le Tuan Hung is a composer, performer and author, specialising in Vietnamese music and experimental music of contemporary Australia. He is also the author of various publications on Vietnamese performing arts and is regarded as an international authority in Vietnamese musicology.
He has performed widely in Asia, Australia, Europe, North America and New Zealand. His compositions have been recorded on Move Records, ABC Music and NMA Records.
He holds academic qualifications in various disciplines, including a PhD in Musicology from Monash University.
Le Tuan Hung is featured on the following titles

Performer: dan tranh [Vietnamese zither], Voice, trong com [rice drum], Composer
Le Tuan Hung and Dang Kim Hien present 'Echoes of Ancestral Voices,' a collection of Vietnamese traditional music. This album follows their beautiful and evocative disc 'Landscapes of Time' (described by ABC Radio National as "an enchanted journey across the soundscapes of Vietnam.")

Performer: dan tranh [Vietnamese zither], suling [Balinese flute], electronic crickets, voice, bells, mo [temple block], dan nguyet [Vietnamese moon-lute], wind chimes, plastic wind roarer, ocarina, Composer
Contemporary Sound Art of Vietnam. Evocative images and haunting effects, creating a totally unforgettable listening experience. Explore new directions in contemporary sound art with a touch of Vietnamese colour - inspired by Vietnamese poems, ideas and spirituality.

Performer: Dan Tranh [Vietnamese zither], skin and clay drums, Bronze bells, Sanh [Wooden sticks], Voice, Composer
An acoustic journey across Vietnamese soundscapes, from the majestic sounds of court music to the subtle flow of lullabies, from poetry and classical chamber music to lively, village festival songs.
Back to Back Zithers are four distinguished solo composer-performers who enjoy sharing each other's traditions and skills in the process of making a new Australian music. Since 1988 they have combines their original ideas with musical thoughts from Vietnam, West Java, mediaeval France and Italy in new compositions which transcend the boundaries of East and West.
Performer, Composer
New Australian music from Back to Back Zithers which combines original ideas with musical thoughts from Vietnam, West Java, Mediaeval France and Italy.
Compositions by Le Tuan Hung also appear on
Performer: Medieval Psaltery, Balinese Suling [end-blown flutes], Composer
Cross-cultural music by Australian composers. The latest CD from Le Tuan Hung, featuring compositions by respected Australian composers and performers including Ros Bandt, Brigid Burke, Warren Burt and Deborah Kayser, was nominated for a 2005 ARIA Award.

Composer
This new CD features the diverse works of six Australian composers that have taken Asian instruments and voices beyond the boundaries of their own traditions. From dan tranh to sheng, from shakuhachi to erhu, this fascinating recording is cross-cultural music at its best.