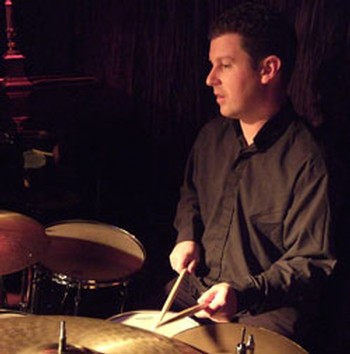 Mark Lockett
Drummer Mark Lockett is a tasteful time-keeper who not only eschews long solos, but clearly espouses the old but very valid notion that a drummer's function in the band is to make everyone sound great, not constantly call attention to his own personal virtuosity.
From beyond the grave, the master drummers of old like Sid Catlett, Dave Tough and Art Blakey must surely be nodding with pleasure.
Drummer and leader on About Time, he is following in the footsteps of countrymen like pianists Alan Broadbent and Mike Nock, and tenor sax player Roger Manins, all of whom have left their lovely but professionally-limiting nation to find success overseas.
He is the leader of a popular Melbourne trio.
Artist's website: www.marklockett.com.au
Mark Lockett is featured on the following titles

Although he first came to prominence on the jazz scene a half century ago, Ornette Coleman still scares people. But his compositions, rooted as they were in classic blues, have long appealed to jazz listeners of every stripe.
Performer
Composer

The musicians that drummer Mark Lockett has assembled for this impressive debut CD About Time are master story-tellers, steeped in the century-old traditions of jazz but always eager to say something new.
Performer
Composer