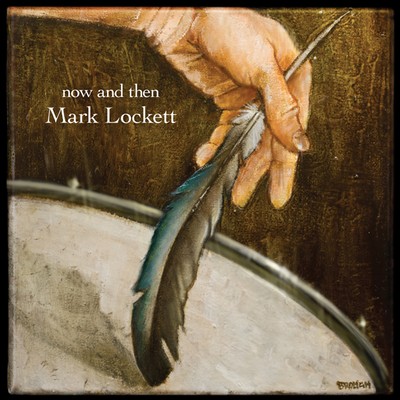 Now and Then
Although he first came to prominence on the jazz scene a half century ago, Ornette Coleman still scares people. But his compositions, rooted as they were in classic blues, have long appealed to jazz listeners of every stripe.
It's to Mark Lockett's credit that he has chosen four of Ornette's most accessible yet stimulating tunes and included them on this CD.
Artist

Drummer Mark Lockett is a tasteful time-keeper who not only eschews long solos, but clearly espouses the old but very valid notion that a drummer's function in the band is to make everyone sound great, not constantly call attention to his own personal virtuosity.
Press quotes
"Melbourne drummer Mark Lockett favours a straight-ahead hard bop-based sound, and he has a very capable band to work with on Now and Then . . . all provide articulate, assured solos, while Des White (bass) helps Lockett push the band alongside clean, no-frills style." ★★★
— Adrian Jackson, Limelight
"Here is an engagingly quirky number from Melbourne drummer Mark Lockett. With a crew of musicians featuring pianist Mark Fitzgibbon, bassist Desmond White, trombonist Shannon Barnett, and Paul Van Ross on tenor sax, he has put together a tribute to Ornette Coleman, the avant-garde alto sax player who so shocked the jazz world in the 1950s with his free-falling harmonies and bouncing rhythms. . . . There are many beautiful moments here. Check out, for instance, Lockett's work on his light little Monk-like number Mr Pickles, which starts with the drums gently leading in, with van Ross and Barnett doubling the tight lines, four bars or even less at a time, and some solid work from White. Or Fitzgibbon's superb attack on Monk's Trinkle Trinkle, his chords and solos way outside and jarring, but swinging hard and streaming with ideas from chromatic runs to blues-inflected flashes. One of the real standouts here is Coleman's Latin-inflected pieceJayne."
— Leon Gettler, The Age - Green Guide
Audio preview
Track Listing
Performers
Composers

With a pianistic and compositional style that draws from black gospel, bebop, Latin and R&B sources, Horace Silver was one of the major musicians of the hard-bop and soul-jazz movements of the '50s and '60s.
Where to buy
Now and Then is available for download from the iTunes Music Store.
It's available for streaming through Apple Music.
Now and Then is available as as CD. It can be purchased online through Buywell Music or the Australian Music Centre which both offer secure online ordering.
Move CDs can be ordered through music retailers across Australia including Readings.
Product details
List price

$25.00 AUD

Release date

November 2008

Copyright

© 2008 Mark Lockett

Phonogram

℗ 2008 Mark Lockett

Category

Catalogue number

MCD 388

Barcode

EAN 9314574038828