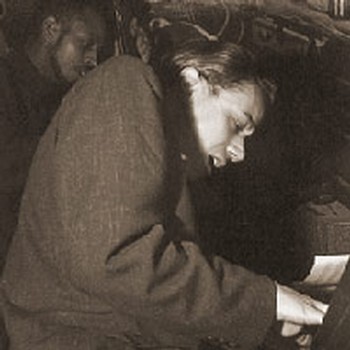 Horace Silver
With a pianistic and compositional style that draws from black gospel, bebop, Latin and R&B sources, Horace Silver was one of the major musicians of the hard-bop and soul-jazz movements of the '50s and '60s.
Born in Norwalk, Conn., on Sept. 2, 1928, Silver grew up listening to the folk music of Cape Verde, as his father was from this Afro-Portuguese nation. He also absorbed the popular jazz, blues and gospel music of the day. He played both saxophone and piano in high school, influenced by Thelonious Monk and Bud Powell. He was hired by Stan Getz in 1950 and worked with him for one year. During this time, his boppish compositions "Split Kick" and "Potter's Luck" previewed his gifts as a writer.
After moving to New York in 1951, Silver played and recorded with a number of jazz stars, including Miles Davis, Milt Jackson, Lester Young and Coleman Hawkins. He made his first record as a leader with Lou Donaldson in 1952 for Blue Note, which marked a relationship with the label that lasted 28 years. Silver worked with Art Blakey's Jazz Messengers in 1953, and the group's back-to-basics approach was the start of the hard-bop era. Silver's profile as a leader and composer rose for the next two decades, especially with his signature tunes including, "Doodlin'," "Opus De Funk," "Sister Sadie" and his 1964 Cape Verdean/Bossa Nova hit, "Song For My Father." Similar to Blakey's band, his own group became a breeding ground for young talent, including the Brecker Brothers, Joe Henderson, Woody Shaw and Ralph Moore. He started his own label in the '80s, Silveto, which quickly folded. Today, he records for GRP.
Compositions by Horace Silver appear on

Move's ARIA-nominated jazz duo again returns to the studio for their long awaited new album! This recording goes much further in terms of repertoire, and consequently extends the level of energy on the spirited pieces, and the level of expression on the gentler ones.
Composer

Although he first came to prominence on the jazz scene a half century ago, Ornette Coleman still scares people. But his compositions, rooted as they were in classic blues, have long appealed to jazz listeners of every stripe.
Composer

The musicians that drummer Mark Lockett has assembled for this impressive debut CD About Time are master story-tellers, steeped in the century-old traditions of jazz but always eager to say something new.
Composer