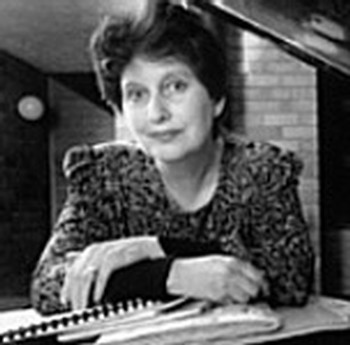 Mary Mageau
Composing in a large number of genres, Mary Mageau's catalogue includes works for symphony and string orchestra, chorus, ballet, theatre, solo instruments, various chamber ensembles and voice.
Mary Mageau (1934-2020) was also the recipient of many international awards. These include: the Louis Moreau Gottschalk International Composer's Competition (silver medal), ASCAP Standard Awards granted annually since 1981 and a prize in the 1994 Alienor Harpsichord Concerto Competition for Composers. In 1990, her Triple Concerto was highly commended by the Vienna Modern Masters First Recording Award and was released in VMM's 'Music From Six Continents' CD series.
Over her composing career, she wrote close to 20 works for big forces, from overtures to symphonic works, concertos and compositions for string orchestra. She also wrote a great many works for solo instruments - particularly piano, but also harpsichord, which was her own instrument - as well as chamber works, often involving woodwinds. She also wrote a number of much-loved vocal works.
Born in the United States, Mary Mageau first arrived in Australia in 1974 as a guest music lecturer. In her new home country, Mageau received commissions from Musica Viva, the Queensland Philharmonic, the ABC, the Strathfield Symphony Orchestra and the Australia Council for the Arts. Soloists from the US also commissioned works, and international orchestras that played and recorded her works include the Hartford, Duluth, Des Moines and Minnesota Orchestras in the USA, and Slovak and Polish Radio Symphony Orchestras in Europe. Mageau's music has been released on 17 CDs.
The 2005 song cycle Remembering Albany remained her last composition, but Mageau did not retire from artistic life, instead reinventing herself as writer of poems and novellas. You can read Mageau's writing and see her nature photography on her website.
Mary Mageau passed away in January 2020 at the age of 85.
Compositions by Mary Mageau appear on

Elizabeth Anderson explores harpsichord music across four centuries: ranging from Conceição's raw 17th century battle piece, through traditional Baroque repertoire, to Jazz, Blues, Gershwin and the Beatles accompanied by drums and bass. Weird, wild, wacky and wonderful - you've never heard the harpsichord like this!
Composer

A valuable collection of Australian compositions for piano, by some of Australia's most respected and inventive composers and performed by pianist- composer, Larry Sitsky.
Composer