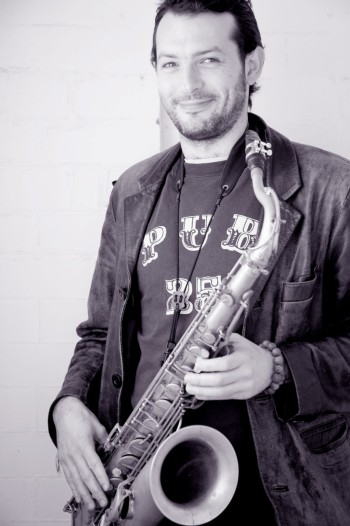 Matt Keegan
Matt Keegan regularly performs throughout Australia and around the world.
As a project leader of 20 years' experience, Keegan has produced and released eight albums that feature his prolific work as a composer, arranger and saxophone soloist. In 2011 he won the prestigious MCA Freedman Fellowship for jazz. He is the artistic director of the international, intercultural ensemble The Three Seas. In 2018 he was a recipient of the APRA AMCOS Art Music Fund award. Fika is the first album he has produced for Elysian Fields.
Elysian Fields, Australia's only electric viola da gamba ensemble, was formed by Jenny Eriksson, Matt Keegan and Matt McMahon in 2015. The band is an ongoing experiment in creating new improvised and composed repertoire for the electric viola da gamba – of which Eriksson is believed to be the only Australian exponent.

FIKA is the latest recording from crossover ensemble Elysian Fields: beautiful music that plays and sings to the gathering of friends with food and fine conversation!
Performer: Saxophone
Composer

Elysian Fields is Australia's only electric viola da gamba band, heralding the creation of a new and unique musical voice. Elysian Fields is the brainchild of viola da gambist, Jenny Eriksson, and leading jazz musicians, Matt Keegan, saxophones, and Matt McMahon, piano.
Performer: Saxophone
Composer