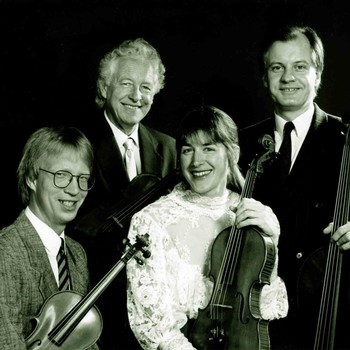 Melbourne String Quartet
The Melbourne String Quartet has appeared in various guises over the years. One group formed in 1973 and another in 1994.
The 1973 group was formed from members of the Melbourne Symphony Orchestra. Leonard Dommett (concert-master), Donald Scotts (deputy), Paul O'Brien (principal viola), and Phillip Green (principal cello).
The 1994 incarnation of the Melbourne String Quartet [photo] featured some of Melbourne's finest string players including Carl Pini, Gerard van der Weide, Jane Hazelwood and Arturs Ezergailis. This is the group in the photo.
Melbourne String Quartet is featured on the following titles

An exciting juxtaposition of 20th century Australian and 19th century European musical styles. Gordon Kerry's 'Torquing Points for String Quartet' and Mark Pollard's 'The Quick or the Dead' are approachable and lyrical pieces that fit well with this CD's classical works.

The tragic death, at age 33, of lan Bonighton in May 1975 robbed Australian music of one of its most promising young composers. He had been composing for little more than ten years. This remastered release showcases compositions for percussion, organ, choir, string quartet, piano, horn and electronics.
Performer
Melbourne String Quartet also appears on

A retrospective compilation of some of the highlights of the music of the late Peter Sculthorpe. Many favourites are included.
Performer
Members of Melbourne String Quartet