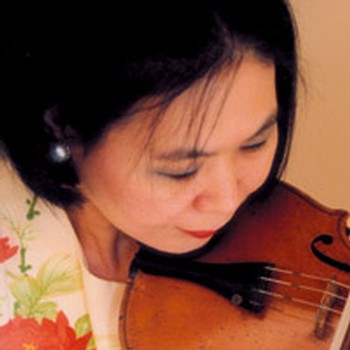 Miwako Abe
Miwako Abe has frequently performed as soloist and in chamber music ensembles, steadily enhancing her reputation across four continents as an exceptionally gifted artist. She has performed in England, Germany, Austria, Italy, Spain, Poland, the Czech Republic, Israel, Turkey, Japan, India, and New Zealand.
Miwako Abe's distinguished career began when she started playing the violin at the age of five. After her study at the prestigious Toho Gakuen School of Music in Tokyo where she studied violin with Toshiya Eto and Hideo Saito, she became a prize-winning graduate of the Guildhall School of Music in London. Her teachers at the Guildhall School of Music include world-renowned artists such as Yfrah Neaman and William Pleeth. Here her selection for the BBC Television masterclass with Yehudi Menuhin was a tribute to her youthful mastery of the violin, which received further recognition by the award of the prestigious Boise Foundation Scholarship from London. This brought her to complete her studies at the Salzburg Mozarteum, where she became assistant to the celebrated violinist-conductor Sandor Végh. Her London debut recital at the Wigmore Hall received high praise from critics in The Times and The Daily Telegraph.
Ms Abe has given numerous performances as soloist and in chamber music ensembles, steadily enhancing her reputation across five continents as an exceptionally gifted artist. In England she played with the world-famous Academy of St. Martin-in-the Fields and with the English Chamber Orchestra, and she has performed as a concerto soloist with orchestras as well as in chamber music in Germany, Austria, Italy, Spain, Poland, the Czech Republic, Japan, Israel, Jordan, Taiwan, Turkey, India, New Zealand, and the United States. She performed in many international festivals including the Salzburg Festival, Festival de Otonio, the Ankara Festival, the Adelaide International Festival, the Perth International Festival, and Melbourne International Festival.
Since coming to Australia in 1982, Miwako Abe has performed with major orchestras and ensembles, among them the Sydney, Melbourne, and Adelaide Symphony Orchestras, the Sydney String Quartet, the Australia Ensemble, the Australian Chamber Soloists, Flederman, Pipeline, and Soloists of Australia. As a member of the colourful Austral Trio-violin, flute, and guitar-Miwako Abe took part in numerous tours sponsored by the Australian Broadcasting Corporation, the Australian Department of Foreign Affairs, and Musica Viva, both within Australia and overseas.
A frequent performer on ABC FM Classic, as well as on overseas networks, Miwako Abe has worked live on air, in recordings, and in recitals with many distinguished associate artists, such as Ian Munro, Stephen McIntyre, Frank Wibaut, Roy Howat, and Michael Kieran Harvey. Her most recent recording of the selected American contemporary compositions for the New York-based American record label, New World Records received critical acclaim from Gramophone magazine. New compositions for violin were written and dedicated to her by prominent Australian composers including Larry Sitsky, Nigel Westlake, Wendy Hiscocks, Laurence Whiffin, and Julian Yu.
Ms Abe is regarded as an outstanding performer as well as a highly successful teacher of the violin. She is currently Associate Professor of Music and Head of the String Department at the Victorian College of the Arts. She has also recently been invited to teach at the Australian National Academy of Music. Many of her students have been successful in becoming prominent professional musicians, actively performing in Europe, the United States, and in Australia. Her reputation continues to brings invitations to give recitals and masterclasses at universities and conservatoria in Australia and overseas.
Miwako Abe is featured on the following titles

The internationally renowned violinist Miwako Abe and the pianist David McSkimming play works by a group of French composers who were all working in Paris at the end of the nineteenth century, sometimes inspiring each other and occasionally forming rivalries.
Performer: Violin
Miwako Abe also appears on

This CD combines a jazz trio, a string orchestra, and various featured instrumental soloists, not to mention the vocal talents of Gian Slater and Eddie Perfect. Graeme Lyall has provided superbly rich arrangements of songs from the Great American Songbook in addition to other notable tunes.
Performer

The landscape and atmosphere of Australia come to life in this varied collection of solo and chamber guitar works by Australian composer, Philip Houghton.
Performer: Violin