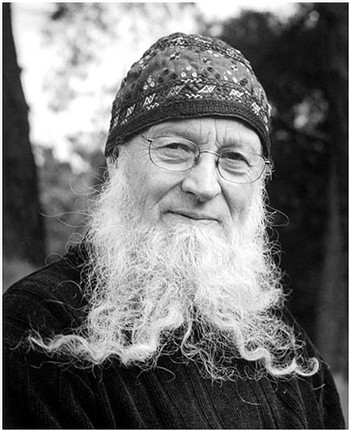 Terry Riley
Minimalist pioneer Terry Riley was among the most revolutionary composers of the postwar era; famed for his introduction of repetition into Western music motifs, he also masterminded early experiments in tape loops and delay systems which left an indelible mark on the experimental music produced in his wake.
Born in 1935 in the Sierra Nevada mountains of Northern California, Terry Riley launched what is now known as the Minimalist movement with his revolutionary classic In C in 1964. This seminal work provided the conception for a form comprised of interlocking repetitive patterns that was to change the course of 20th-century music and strongly influence the works of Steve Reich, Philip Glass and John Adams, as well as rock groups like The Who, The Soft Machine, Curved Air, Tangerine Dream and many others.
In the 1960s and 70s he turned his attention to solo improvisational works for electronic keyboards and soprano saxophone, and pioneered the use of various kinds of tape delay in live performance. This approach resulted in another set of milestone works, A Rainbow in Curved Air, Poppy Nogood and the Phantom Band, The Persian Surgery Dervishes and Shri Camel. These hypnotic, multi-layered, polymetric, brightly orchestrated, eastern-flavored improvisations set the stage for the New Age movement that was to appear a decade or so later.
Terry Riley has written for a variety of new-music soloists and ensembles, including the Rova Saxophone Quartet, Array Music of Toronto, Zeitgeist, Stephen Scott's bowed piano ensemble, The California Ear Unit, guitarist David Tanenbaum, the Abel-Steinberg-Winant Trio, pianist Werner Baertschi and the Amati string quartet. In 1989, he formed the new performance ensemble KHAYAL which specializes in group vocal and instrumental improvisation. In 1992, he formed a small theater company, The Travelling Avantt-Gaard to perform his opera/theater piece The Saint Adolf Ring, based on the divinely mad drawings, poetry, writings and mathematical calculations of Adolf Wolfli, an early 20th-century Swiss artist.
Compositions by Terry Riley appear on

After nearly a decade of hanging out, talking shop and drinking coffee, two of Australia's most compelling virtuoso guitarists Daniel McKay and Antony Field formed Duo 19. This duo debut album presents an eclectic program including works by Australian composers, Nigel Westlake and Phillip Houghton.
Composer

Terry Riley's classic minimalist work In C receives its first electroacoustic interpretation by the Melbourne-based contemporary music ensemble.
Composer