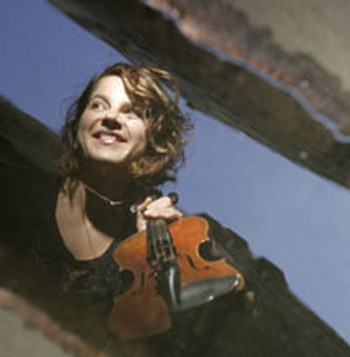 Zoë Black
Zoë Black has won numerous awards including the National Youth Concerto Competition in 1989 and the String section of the ABC Young Performers Award in 1991.
Graduating from the Victorian College of the Arts in 1992, Zoë was awarded grants from the Australia Council and the Queen Elizabeth Jubilee Trust and the major performance award of the Australian Musical Foundation in London where she studied at the Guildhall School of Music under David Takeno and subsequently at the Vienna Hochschule with Michael Schnitzler.
During her time in Europe she studied chamber music with the Takacs Quartet, played with the London Symphony Orchestra and in Vienna with the Wiener Kammerorchester. She returned to Australia in 1996 to become Assistant Leader of the Australian Chamber Orchestra with whom she toured extensively both within Australia and overseas.
Touring regularly throughout Australia, Zoë has been a featured soloist and performed in chamber settings at the annual Huntington Festival in Mudgee, NSW, has performed in the MSO Chamber Music series, appeared as soloist with the Tasmanian and Melbourne Symphony Orchestra and is a regular performer for the ABC Sunday Live series.
In 2006 Zoë was a founding member of the Freshwater Trio, which has quickly become one of Melbourne's leading chamber ensembles, with sell-out performances at numerous festivals including Port Fairy and Castlemaine and with its own innovative subscription series at Melba Hall. Future engagements include taking part in Musica Viva's Coffee Concert series and regional touring as well as a tour to St. Petersburg.
In 2007 Zoë recorded the Roger Smalley Violin Concerto with the Victorian College of the Arts Orchestra for the ABC. In addition to her performing career, Zoë is a valued member of staff at Melbourne University and the Victorian College of the Arts.
Artist's website: www.freshwatertrio.com
Zoë Black is featured on the following titles
Crossing over between ragtime, tango, modern classical and folk music of various cultures, this collection of recent works for violin and guitar spans a period from Astor Piazzolla's 1986 composition Histoire du Tango to Tim Hansen's 2007 re-scoring of Earwig for Zoë and Daniel.
Performer: Violin
Zoë Black also appears on

Ambient Voice features Dean Frenkel's haunting harmonic vocals strategically placed over and within the music of outstanding Australian composers, including Mark Clement Pollard, George Dreyfus, Andrew MacGregor and the group Invention in Time.
Performer: Violin

Inspired by the Gamelan and Japanese Shinto music, the recent ambient work of Mark Clement Pollard is unique in its pursuit of beauty and simplicity. A Handful of Rain is the first comprehensive collection of this acclaimed Australian composer's popular style.
Performer: Violin