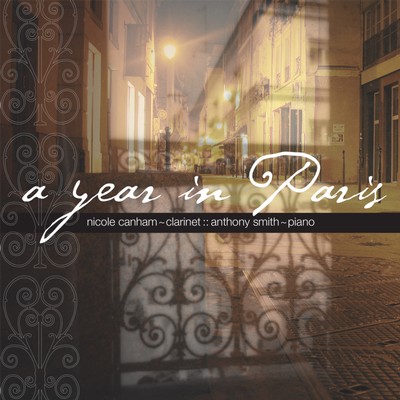 A Year in Paris
Music for clarinet and piano by composers Poulenc, Carmichael, Benjamin, Cahuzac, Debussy, Stanhope, Brumby, Cahuzac and Francois. Nicole spent a year in Paris studying at the Versailles Conservatoire.
Music for clarinet and piano by composers Poulenc, Carmichael, Benjamin, Cahuzac, Debussy, Stanhope, Brumby, Cahuzac and Francois.
A Year in Paris is a romantic, mysterious journey through repertoire evoking Paris, the most beautiful city in the world. Moody, intimate, ranging from introverted to brilliant, the music takes the listener through a year long view of the seasons and emotions of an Australian living in the City of Light.
From the mercurial Valses-Caprices of Benjamin to the brooding Pastorale Cevenole, the icy stillness of The Footsteps in the Snow and the bubbling enthusiasm of the Francaix Theme and Variations, A Year in Paris offers the range of emotions evoked in a life in Paris. Music to sit back and drift away with your imagination...rainy Paris streets, surprises and beauty around every corner, a mix of the startling and the expected.
This recording project is the culmination of Canham's studies in France with renowned clarinetist and pedagogue, Philippe Cuper. Produced with the assistance of CAPO, the CD features music by French and Australian composers, all of whom have some connection to Paris or with each other.
With "A Year in Paris" Canham and Smith aim to share the ideas of anecdotes and traditions and their influence on performance, with Australian audiences.
Artists

Anthony graduated from the ANU in 2000. He was appointed pianist at The Casals Academy of Music in 2003.

Nicole's professional experience is extensive and varied, including orchestral work with Opera Australia, the Tasmanian and Canberra Symphony Orchestras, the Canberra Chamber Orchestra, the Canberra Choral Society and for the Australian and Kiev Ballet Canberra seasons.
Press quotes
"Nicole Canham's voluptuous timbre and immaculate technique ensnare you right from the opening of Poulenc's Charinet Sonata, transporting you effortlessly into an exotic yet rewarding program drawn from Paris-inspired French and Australian composers. Antony Smith is a first-rate accompanist. This is one of the best Chamber albums so far this year."
— BC, Limelight
"If you are fond of the Clarinet, let me say unhesitatingly that this CD should yield hours of pleasure."
— John Barns, 3MBS FM Libretto
"Intelligent selection and fine performances."
— Malcolm Tattersal, MCA Music Forum
Track Listing
Poulenc: Sonata for clarinet and piano
Carmichael: Pastorale
Benjamin: Le Tombeau de Ravel Valse-Caprices
Cahuzac: Pastorale Cevenole
Debussy: Les pas sur la neige
Stanhope: Phospheric Variations
Brumby: Danza
Cahuzac: Cahuzac
Francois: Tema con Variazioni
Where to buy
A Year in Paris is available as as CD. It can be purchased online through Buywell Music or the Australian Music Centre which both offer secure online ordering.
Move CDs can be ordered through music retailers across Australia including Readings.
Product details
List price

$25.00 AUD

Category

Catalogue number

MCD 288

Barcode

EAN 9314574028829