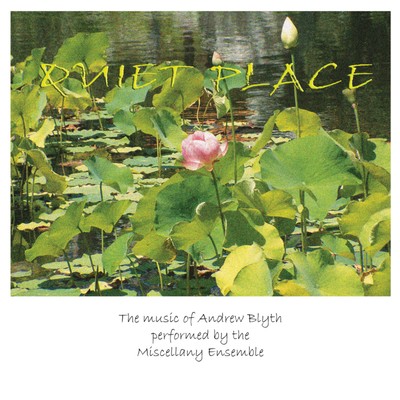 Quiet Place
Each of the eleven tracks on this recording is a song without words. Although
written over a number of years, each song is characterised by a concern for
simplicity and directness of expression.
When I brought the pieces together as a collection, it was evident that the sound of the flute and harp pervaded the music. Megan and Kathryn of the Miscellany Ensemble were gracious enough to express a willingness to devote their time and energy to work with me in realising this recording. This is music that is intended for quiet, reflective listening. The recording is dedicated to my mother, Sheila Blyth.
Megan Reeve - harp
Kathryn Moorhead - flute
Katie Chilmaid - viola
Andrew Blyth - orchestration
Artist

Andrew's music intentionally crosses the boundaries between classical and popular music.
Track Listing
1. Gliding
2 Drifting
3 Innocence
4 Irish song
5 Inner strength
6 Old Country
7 Harp piece
8 Quiet place
9 A long time ago
10 Walking
11 Western Districts
Where to buy
Quiet Place can be purchased online through Buywell Just Classical or the Australian Music Centre which both offer secure online ordering.
This title is also available in (or can be ordered through) many fine music retailers across Australia including Readings.
Product details
List price

$25.00 AUD

Categories

Catalogue number

MCD 366

Barcode

EAN 9314574036626