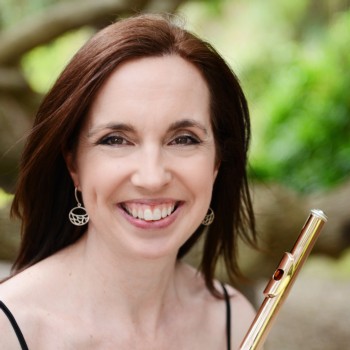 Kathryn Moorhead
Originally from Australia, Kathryn now lives in New Zealand where she is the Associate Principal Flautist in the Auckland Philharmonia Orchestra. She has worked with many orchestras including the Melbourne, Adelaide, Queensland, Tasmanian and Netherlands Symphony Orchestras, the Hong Kong and Malaysian Philharmonic Orchestras, the Adelaide Chamber Orchestra, and Orchestra Victoria.
Kathryn has performed at International Arts Festivals in Melbourne, Adelaide, Brisbane, Aberdeen and London, and has toured New Zealand with the Koru Wind Quintet for Chamber Music NZ. She has appeared as a recitalist at the National Flute Association Convention in Washington DC and the Australian Flute Festival. She has been a jury member for the NFA Orchestral Audition Competition in the USA, the Australian Young Artist Competition and the Leslie Barklamb Scholarship.
Kathryn completed her Bachelor and Masters degrees at the University of Melbourne and received a scholarship from the Australian Elizabethan Theatre Trust to undertake postgraduate study with Andreas Blau from the Berlin Philharmonic, Leon Berendse from the Netherlands Philharmonic and Harrie Starreveld at the Amsterdam Conservatorium. She also holds a PhD in Music from the University of Adelaide where she was awarded the Dean's Commendation for Doctoral Thesis Excellence.
Kathryn Moorhead is featured on the following titles

Throughout history composers have been drawn to the combination of the flute and harp, from the shepherd's pan pipes and Orphean lyre of ancient Arcadia, to the French court of Marie-Antoinette and Mozart's duo concerto.
Performer: Flute

Each of the eleven tracks on this recording is a song without words. Although written over a number of years, each of these pieces by composer Andrew Blyth is characterised by a concern for simplicity and directness of expression.
Performer: Flute
Kathryn Moorhead also appears on

This CD is a tribute to 20th century Australian women composers. It's hoped that it will encourage others to listen, perform, study and program this music, bringing it to a wider audience.
Performer