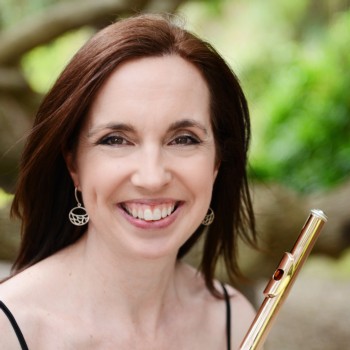 Kathryn Moorhead
Kathryn Moorhead completed undergraduate studies at the Adelaide School of Music and the Victorian College of the Arts in Australia. She holds Master of Music Degrees from both the University of Melbourne and the Brabant's Conservatorium in Holland, as well as a postgraduate Diploma from the Amsterdam Conservatorium.
Kathryn toured Australia and the United Kingdom with the Australian Youth Orchestra and Camerata Australia, and was awarded a Youth Music Australia/ABC Orchestral Fellowship with the Tasmanian Symphony Orchestra for 1997-8. From 1995-99 she performed with the Adelaide Symphony Orchestra and the Adelaide Chamber Orchestra and since 2003 she has freelanced with the Melbourne Symphony Orchestra and Academy of Melbourne. In Holland she played piccolo in the Orchestra of the East and Principal Flute in the Joop van den Eende Theatre Orchestra. During 2005 Kathryn has been performing with the Auckland Philharmonia as Acting Principal Flute.
In 2000 Kathryn was the recipient of scholarships from the Australian Elizabethan Theatre Trust and the Ian Potter Foundation to study in Europe. This included private study and masterclasses with leading flautists and pedagogues Emmanuel Pahud, Leon Berendse, Andreas Blau, and Goran Marcusson. She won first prize in the Leslie Barklamb Flute Competition and second prize in the 2005 Australian International Flute Competition.

Kathryn Moorhead is featured on the following titles

Performer: Flute
Throughout history composers have been drawn to the combination of the flute and harp, from the shepherd's pan pipes and Orphean lyre of ancient Arcadia, to the French court of Marie-Antoinette and Mozart's duo concerto.
Kathryn Moorhead also appears on

Performer
Each of the eleven tracks on this recording is a song without words. Although written over a number of years, each song is characterised by a concern for simplicity and directness of expression.

Performer
This CD is a tribute to 20th century Australian women composers. It's hoped that it will encourage others to listen, perform, study and program this music, bringing it to a wider audience.