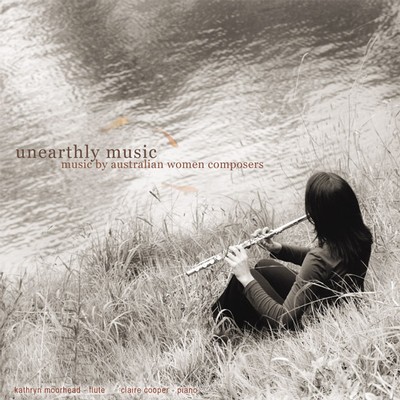 Unearthly Music
This CD is a tribute to 20th century Australian women composers. It's hoped that it will encourage others to listen, perform, study and program this music, bringing it to a wider audience.
Kathryn Moorhead - Flute
Claire Cooper - Piano
"This project began when I started to search through scores at the Australian Music Centre in an attempt to assemble a program of music for flute and piano by Australian composers. In the process I noticed a significant amount of music by female composers including some music that is not well known by audiences and musicians.
"I decided to perform and record this music, as it seems to me that women's involvement with musical activity has not always received acknowledgement in the past. A considerable amount of the music on this CD has not been recorded before and I believe that any music of this quality by Australian composers should be available to be enjoyed by Australian and international listeners." (Kathryn Moorhead)
Artists

Originally from Australia, Kathryn now lives in New Zealand where she is the Associate Principal Flautist in the Auckland Philharmonia Orchestra. She has worked with many orchestras including the Melbourne, Adelaide, Queensland, Tasmanian and Netherlands Symphony Orchestras, the Hong Kong and Malaysian Philharmonic Orchestras, the Adelaide Chamber Orchestra, and Orchestra Victoria.

Claire Cooper studied with John Winther at the Canberra School of Music, and later at the Hong Kong Academy for Performing Arts. She spent five years as repetiteur and accompanist for the Victorian College of the Arts and was a member of staff at the Faculty of Music, University of Melbourne as an accompanist.
Press quotes
"Stuck for a last-minute gift? You could do little better than this recent product of the adventurous Move company, which makes a point of fostering Australian musical talent. The CD comprises music for flute and piano written by women composers, many of whom will be familiar to music-lovers without much knowledge of Australian chamber music or local composition. Phyllis Batchelor and Miriam Hyde wrote for younger players, while Anne Boyd, Jennifer Fowler and Helen Gifford all formed part of the sudden flowering in Australian art music from the 1960s onwards. Actor-musician May Howlett features on the disc, as does Dutch-born Meta Overman, who spent 12 years in Melbourne but was based in Perth for much of her career.
The performers of the eight works are flautist Kathryn Moorhead, familiar from appearances in the ranks of the Melbourne Symphony Orchestra and the Academy of Melbourne. Her expert accompanist, Claire Cooper, makes an ideal foil for Moorhead's unflustered, limpid flute line."
— Clive O'Connell, The Age
"attractive, well played and well worth having"
— Peter Larsen, 3MBS FM Libretto
"a rich sensitive performance ... an impressive recording ... highly recommended"
— Rita Crews, THE STUDIO magazine
Audio previews
Track Listing
ANNE BOYD
1. Goldfish Through Summer Rain
HELEN GIFFORD
Fantasy
2.Liberamente
3. Lento
4.Vivo
MIRIAM HYDE
5. Nocturne
PHYLLIS BATCHELOR
Sonata
6.Molto Allegro
7.Adagio
8.Vivace
JENNIFER FOWLER
9. Blow Flute: Answer Echoes in Antique Lands Dying
META OVERMAN
Haiku
10. Molto lento
11. Allegro energico
12. Moderato
13. Allegretto leggiero
14. Allegro con moto
15. Tranquillo sonoro
MAY HOWLETT
Exhibits
16. Mobiles
17. Veil VII
18. Electric Mouse
19. Streeton's Noon
ANNE BOYD
20. Cloudy Mountain

Where to buy
Unearthly Music is available as as CD. It can be purchased online through Buywell Music or the Australian Music Centre which both offer secure online ordering.
Move CDs can be ordered through music retailers across Australia including Readings.
Product details
List price

$25.00 AUD

Category

Catalogue number

MCD 299

Barcode

EAN 9314574029925