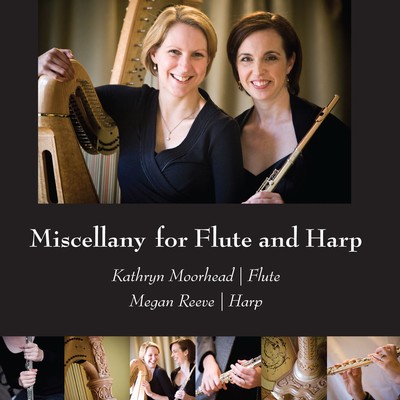 Miscellany for Flute and Harp
Throughout history composers have been drawn to the combination of the flute and harp, from the shepherd's pan pipes and Orphean lyre of ancient Arcadia, to the French court of Marie-Antoinette and Mozart's duo concerto.
'Miscellany for Flute and Harp' draws on a broad range of historical and contemporary repertoire that showcases this perennial duo. Kathryn Moorhead and Megan Reeve, founders of the Miscellany Ensemble, come together for this long awaited debut recording.
Kathryn and Megan have chosen a wide variety of music to feature on this recording, from the well-known to the recently discovered. Classical favourites such as the Arab Dance from the Nutcracker Suite, Gluck's Dance of the Blessed Spirits and the Entr'acte from Carmen sit alongside contemporary Australian works from Colin Brumby and John Carmichael. Folk music is explored with variations on Greensleeves and Josef Molnar's Phantasy on Themes of Japanese Folk Songs, which pushes both instruments to their limits.
A true miscellany for flute and harp!
Artists

Megan has been performing professionally on the harp for over twenty years. She holds a Bachelor of Music degree with Honours from the University of Melbourne, a Master of Music Performance degree from the Victorian College of the Arts, and a Master of Arts in Music, Culture and Politics from Cardiff University, Wales.

Kathryn Moorhead completed undergraduate studies at the Adelaide School of Music and the Victorian College of the Arts in Australia. She holds Master of Music Degrees from both the University of Melbourne and the Brabant's Conservatorium in Holland, as well as a postgraduate Diploma from the Amsterdam Conservatorium.
Audio previews
Track Listing
Performers
Composers
Where to buy
Miscellany for Flute and Harp can be purchased online through Buywell Just Classical or the Australian Music Centre which both offer secure online ordering.
This title is also available in (or can be ordered through) many fine music retailers across Australia, including Thomas' and Readings.
Product details
List price

$25.00 AUD

Total playing time

52 minutes 55 seconds

Release date

May 2013

Copyright

© 2013 Kathryn Moorhead and Megan Reeve

Phonogram

℗ 2013 Move Records

Category

Catalogue number

MCD 447

Barcode

EAN 9314574044720