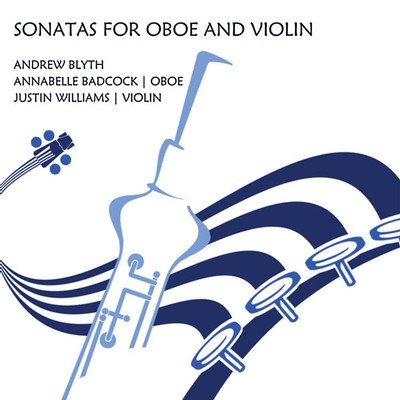 Sonatas for Oboe and Violin
The two sonatas on this disc started life as traditional sonatas with piano accompaniment. The Oboe Sonata was written for a teaching colleague, Caroline O'Donnell and is a first effort in writing a sonata.
On this recording, the work is performed by Caroline's sister Annabelle. The music of the Oboe Sonata remains fairly light in character and reflects the bucolic sound of the oboe.
The Violin Sonata was written immediately after the Oboe Sonata and is an attempt at a weightier and more effectively structured piece. The three movements are presented as a progressive motion from the sombreness of the first movement to the joyousness of the third movement. In planning to record these works, I decided to arrange the piano parts-for string quartet, in the case of the Oboe Sonata, and string orchestra, in the case of the violin sonata-effectively making them small concertos.
Artists

In 2005, Justin completed his Master of Music Performance degree at the University of Melbourne, studying the viola with Caroline Henbest. Since then, he has been based at the Australian National Academy of Music as a member of the TinAlley String Quartet where they maintain the position of 'Visiting Young Artists'. As a member of the quartet, Justin has attended several festivals, including the St Lawrence Chamber Music Seminar, Stanford University, CA, USA, Norfolk Chamber Music Festival, Yale Summer School of Music, CT, USA, International Musicians Seminar, Prussia Cove, UK, and the Emerging String Quartets and Composers Program, Deer Valley, USA.

Annabelle Badcock commenced playing the oboe at the age of 8 following in the footsteps of her older sister Caroline. Born in Tasmania, she first studied with Joseph Ortuso in Hobart.

Andrew's music intentionally crosses the boundaries between classical and popular music.
Track Listing
Oboe Sonata - soloist Annabelle Badcock
1 Allegro
2 Lento
3 Allegro
4 Aria
soloist Annabelle Badcock
5 Steelstrings
soloists Annabelle Badcock
and Justin Williams
Violin Sonata - soloist Justin Williams
6 Moderato
7 Andante
8 Allegro molto
Andrew Blyth - virtual ensemble
Where to buy
Sonatas for Oboe and Violin can be purchased online through Buywell Just Classical or the Australian Music Centre which both offer secure online ordering.
This title is also available in (or can be ordered through) many fine music retailers across Australia including Readings.
Product details
List price

$25.00 AUD

Release date

2007

Copyright

© 2007 Andrew Blyth

Phonogram

℗ 2007 Move Records

Categories

Catalogue number

MCD 332

Barcode

EAN 9314574033229