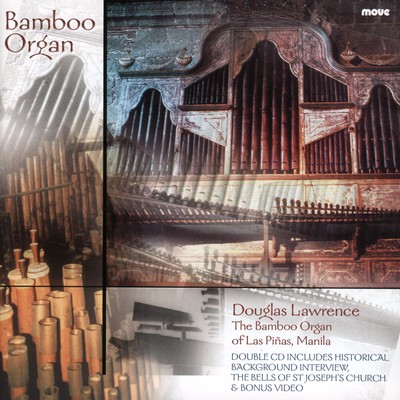 Bamboo Organ
Douglas Lawrence and the Manila Chamber Orchestra. Manila's suburb of Las Piñas boasts the world's only organ with pipes made from bamboo. As well as demonstrating the full potential of the instrument with different solo pieces and Handel's Organ Concerto in G minor, Douglas Lawrence interviews the organ's restorer.
The fascinating story of the organ from its conception by the Spanish missionary Fr. Diego Cera in 1816 through many competent and incompetent repairs and restorations to its complete restoration by German organ builders is related in the programme notes.
Douglas Lawrence interviews Fr. Leo Renier (who was responsible for the restoration of the organ) on a bonus second CD.
Artist

Melbourne organist Douglas Lawrence is Director of Music at The Scots' Church and Teacher of the Organ at the University of Melbourne and was the founding director of Choir of Ormond College, a position he held from 1982 to 2006.
Press quotes
"a most interesting CD to listen to ... It should be a MUST in the collections of all organ music lovers."
— The Organ Voice
"a highly significant release ... a model of informative, beautifully illustrated and thoroughly documented presentation. The album is a delight in every way ... excellent performances by Douglas Lawrence ... a most welcome addition"
— 4MBS FM
"This is a recording that will give great delight to the listener. The music and sound of the organ are charming and captured extremely well ... The playing is stylish, with nice ornamentation, clear articulation and varied registration ... Move and Douglas Lawrence are to be congratulated on a significant achievement."
— John Maidment, OHTA Journal
"pleasing and sensitive playing ... a most interesting CD to listen to ... It should be a MUST in the collections of all organ music lovers."
— David Vann, The Organ Voice, Organ Society of Queensland
"a most interesting and satisfying production. Well worth adding to your collection."
— Greg Crawford, Organ Music Society of Adelaide
"fascinating"
— Bruce Steele, Organo Pleno
"What fun!"
— Kay McLennan, ABC Classic FM
"intriguing"
— Chris Copas, The Star
Audio preview
Track Listing
Performers
Composers
Where to buy
Bamboo Organ is available for download from the iTunes Music Store.
It's available for streaming through Spotify and Apple Music.
Bamboo Organ is available as as CD. It can be purchased online through Buywell Music or the Australian Music Centre which both offer secure online ordering.
Move CDs can be ordered through music retailers across Australia including Readings.
Product details
List price

$25.00 AUD

Engineer

Josepf Kamykowski (tracks 18—21)
Martin Wright (all except tracks 18, 19, 20 and 21)


Editing

Vaughan McAlley


Release date

2001

Copyright

© 2001 Move Records

Phonogram

℗ 2001 Move Records

Categories

Catalogue number

MD 3136

Barcode

EAN 9314574313628