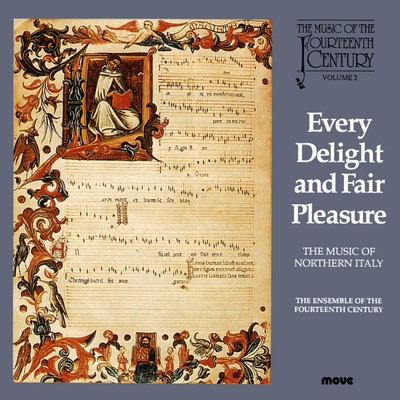 Every Delight and Fair Pleasure - Music 14th Century Vol. 2
Music from northern Italy written between the second decade of the 14th century and the early years of the 15th century. Contains anonymous works from the Rossi manuscript and songs by Maestro Piero and Bartolino da Padova.
The Music of the 14th Century Vol. 2.
Includes The Rossi Manuscript, a collection of early treccento songs; a selection of madrigals by Maestro Piero and madrigals and ballatas by Bartolino da Padova. This fascinating disc includes notes on the composers, the works, the context of the music, compositional techniques, translations and stylistic analyses of each piece.
Artist

The Ensemble of the Fourteenth Century is a collective of specialist singers and instrumentalists brought together for the Fourteenth Century Recording Project. The ensemble was initially formed around the leading Australian mediaeval ensemble La Romanesca, which was expanded to provide the varied instrumental and vocal combinations required by the repertoire.
Press quote
"the occasional track can do wonders to relieve sensory biliousness if you're indulging in an unrelieved diet of orchestral and/or operatic music: epicurean excess for the ear."
— Adelaide Review
Audio preview
Track Listing
Performers
Where to buy
Every Delight and Fair Pleasure - Music 14th Century Vol. 2 can be purchased online through Buywell Just Classical or the Australian Music Centre which both offer secure online ordering.
This title is also available in (or can be ordered through) many fine music retailers across Australia, including Thomas', Discurio and Readings.
Product details
List price

$25.00 AUD

Total playing time

70 minutes 49 seconds

Producer

John Griffiths
Martin Wright


Engineer

Martin Wright


Venue

Trinity College Chapel


Thanks to

Australian Research Council
La Trobe University
University of Melbourne


Release date

1991

Copyright

© 1991 The University of Melbourne, La Trobe University

Phonogram

℗ 1991 Move Records

Categories

Catalogue number

MD 3092

Barcode

EAN 9314574309225