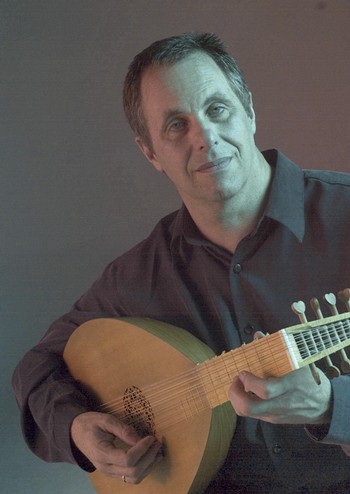 John Griffiths
John Griffiths studied vihuela and lute with Hopkinson Smith and Eugen Müller Dombois in Basel, and has published a broad range of books and articles on the vihuela.
He has performed extensively in Australia, Europe, Asia and the USA both as a soloist and as a member of the ensemble La Romanesca.
He was awarded the cross of Oficial de la Orden de Isabel la Católica in 1993 for his contribution to Spanish music and culture.
Press quote
"In the skilled hands of Griffiths, the 12-string instrument produces exquisite sounds."
— Sunday Herald Sun
John Griffiths is featured on the following titles
Vihuela Music of Renaissance Spain. On vihuela or 'Spanish Lute' – John Griffiths presents an intimate selection of Renaissance fantasies, variations and dances by Spanish composers inspired by the mythological legend of Orpheus.
Performer: Vihuela
A leading force in early music in Australia since 1978, La Romanesca has developed a special interest in the performance of mediaeval monophonic and polyphonic song, although the group's repertory spans the twelfth to seventeenth centuries.

La Romanesca presents a portrait of the musical diversity of Spanish song in the period immediately preceding both the great expulsion and Columbus' great voyages. Music of christian, moorish, jewish Spain before 1492.
Performer: Lute, Vihuela, Percussion
Producer

Music from 12th and 13th century Spain. Features songs by Martin Codax, Marcabru and other unknown composers.
Performer: Lute, Guitarra Morisca

This is the first recording by early music group La Romanesca.
Performer
The Ensemble of the Fourteenth Century is a collective of specialist singers and instrumentalists brought together for the Fourteenth Century Recording Project. The ensemble was initially formed around the leading Australian mediaeval ensemble La Romanesca, which was expanded to provide the varied instrumental and vocal combinations required by the repertoire.

The Music of the Fourteenth Century Series presents some of the earliest and most significant polyphonic settings of the lyric poetry of the late middle ages. Songs by Landini performed by The Ensemble of the Fourteenth Century.
Performer: Director
Producer

Music from northern Italy written between the second decade of the 14th century and the early years of the 15th century. Contains anonymous works from the Rossi manuscript and songs by Maestro Piero and Bartolino da Padova.
Performer: Director
Producer

Two Gentlemen of Verona is an anthology of recordings of the secular music of medieval France and Italy. This volume contains works by Jacopo da Bologna and Giovanni da Firenze.
Performer: Director
Producer
Compositions by John Griffiths also appear on

Environmental composer Ros Bandt first vinyl LP is now available on CD. She uses the sonorities of man-made chambers — a water tank and a wheat silo. A bamboo flute, recorders, a lute, and the human voice reverberate in large acoustic chambers. It may sound electronic, but is in fact entirely natural.
Performer
Composer