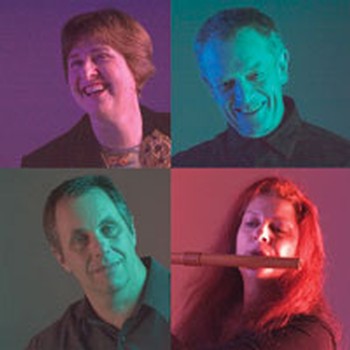 La Romanesca
A leading force in early music in Australia since 1978, La Romanesca has developed a special interest in the performance of mediaeval monophonic and polyphonic song, although the group's repertory spans the twelfth to seventeenth centuries.
La Romanesca has toured widely throughout Europe, the United States and Asia, appearing at major festivals at home and abroad.
Hartley Newnham performs music ranging from Troubadour songs to the avant-garde. He has performed and broadcast in many major musical European musical centres and, together with pianist Nicholas Routley, has premiered many new works.
Ruth Wilkinson specialised in the study of recorder, viola da gamba, violone and ensemble performance at the Schola Cantorum Basiliensis under Hans Martin Linde, Jordi Savall and Jaap Schroeder. In addition to her work with La Romanesca, she is a member of the leading baroque ensemble Capella Corelli.
Ros Bandt plays renaissance and baroque recorders, renaissance flute, psaltery and percussion. She is also renowned in the area of new music as a composer, performer and sound sculptor, having performed her own original music in Europe and America. Her original improvised music is also available on Move Records.
John Griffiths specialises in the performance of early plucked instruments and is an authority on early Spanish music, a field in which his musicological research is widely published. He co-directs the Fourteenth Century Recording Project, and is Reader in Music at the University of Melbourne.
La Romanesca is featured on the following titles

17th century Italian composer Girolamo Frescobaldi was conservative in style and yet an innovator in many ways. La Romanesca presents some of his improvisatory toccatas, imitative polyphonic instrumental music, and songs from his 'arie musicale' of 1630.

La Romanesca presents a portrait of the musical diversity of Spanish song in the period immediately preceding both the great expulsion and Columbus' great voyages. Music of christian, moorish, jewish Spain before 1492.

Music from 12th and 13th century Spain. Features songs by Martin Codax, Marcabru and other unknown composers.
Members of La Romanesca