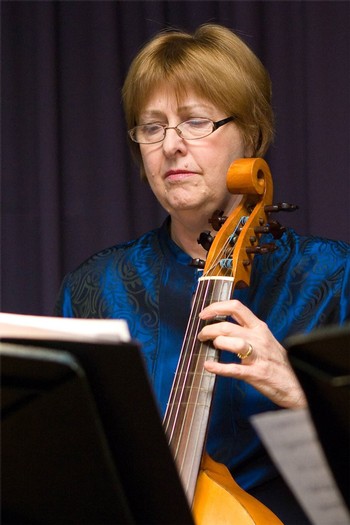 Ruth Wilkinson
Ruth Wilkinson is a recorder and viol player whose musical expertise and passions are based on the performance of music from the 12th to the 18th century. Her performances have been praised for their musical integrity, imagination and brilliance.
As a member of many of Australia's most established early music ensembles including, La Romanesca, Capella Corelli and Consort Eclectu, she has toured extensively throughout Australia, Europe and South East Asia for Musica Viva. More recently she was invited to perform with the plucked instruments ensemble Ludovico's Band.
Ruth has been involved in many recording projects with the Ensemble of the Fourteenth Century, La Romanesca and the Elysium ensemble, as well as a solo recording of the Suites for Voice Flute by Charles Dieupart — all with the Move label.
The breadth of Ruth's musical expertise is reflected in her extensive discography.
She studied the recorder with Hans-Martin Linde and viola da gamba with Jordi Savall at the Schola Cantorum Basiliensis, Switzerland. Ruth teaches recorder and viola da gamba at the Early Music Studio of the University of Melbourne and is Director of Junior School Music at St. Michael's Grammar School, Melbourne.
Ruth Wilkinson is featured on the following titles

Performer: Harpsichord
First release of the complete suites for Flûte du Voix by Charles Dieupart, includes two suites copied by J.S. Bach.
Capella Corelli, one of Australia's foremost baroque chamber ensembles, was formed 21 years ago. The violin works of the great Italian virtuoso Arcangelo Corelli and of his Italian predecessors were the initial inspiration for the group.

Performer
Sonatas of 17th century Italy performed by Capella Corelli. A glimpse into the rich world of instrumental music in seventeenth-century Italy from the experimental works of Cima, Castello, Montalbano, Fontana, Frescobaldi, Marini and Uccellini to Corelli.

Performer: Recorder, Viola da Gamba
Capella Corelli has long been one of Australia's foremost baroque chamber ensembles. In this recording they present a collection of sonatas by Handel and Telemann written for various combinations of the baroque violin, recorder, violin da gamba and harpsichord.
A leading force in early music in Australia since 1978, La Romanesca has developed a special interest in the performance of mediaeval monophonic and polyphonic song, although the group's repertory spans the twelfth to seventeenth centuries.
The Elysium Ensemble has been acclaimed by critics for its exciting performances, fine musicianship and authoritative interpretations of music from the Baroque and Classical repertoire.

Performer: Bass Viol
Intimate music from the court of Versailles and the salons of Paris performed by eminent Early Music ensemble, Elysium.
Ruth Wilkinson also appears on

Performer: Viola da Gamba
The Orpheus Ensemble with Vivien Hamilton. Songs for soprano, harpsichord, baroque cello (viol and baroque violins on occasion), each written for famous singers and actresses in popular Restoration dramas of late 17th century England.
Ruth Wilkinson is a member of

The Ensemble of the Fourteenth Century is a collective of specialist singers and instrumentalists brought together for the Fourteenth Century Recording Project. The ensemble was initially formed around the leading Australian mediaeval ensemble La Romanesca, which was expanded to provide the varied instrumental and vocal combinations required by the repertoire.