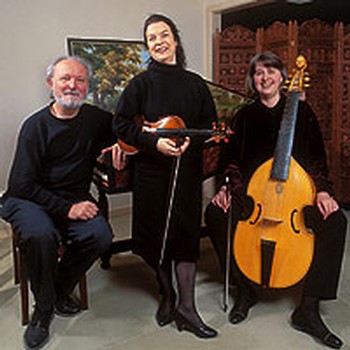 Capella Corelli
Capella Corelli, one of Australia's foremost baroque chamber ensembles, was formed 21 years ago. The violin works of the great Italian virtuoso Arcangelo Corelli and of his Italian predecessors were the initial inspiration for the group.
For its first ten years the group was based in Canberra. Working with harpsichordist and philosopher Paul Thom, they quickly established a name for performances based on the rich repertoire and newly-researched performance practices of the seventeenth and eighteenth centuries. There have been many tours throughout Australia and New Zealand, especially with the support of Musica Viva Australia, and the group has been in demand for workshops and teaching.
Since 1988, with the distinguished harpsichordist and scholar John O'Donnell and gamba player Ruth Wilkinson, Capella Corelli has continued its touring more frequently in Europe particularly to Austria where the group's violinist Cynthia O'Brien now resides. Capella Corelli is delighted to have recorded some of the great solo instrumental music of seventeenth century Italy on the Move label.
Capella Corelli is featured on the following titles

Sonatas of 17th century Italy performed by Capella Corelli. A glimpse into the rich world of instrumental music in seventeenth-century Italy from the experimental works of Cima, Castello, Montalbano, Fontana, Frescobaldi, Marini and Uccellini to Corelli.

Capella Corelli has long been one of Australia's foremost baroque chamber ensembles. In this recording they present a collection of sonatas by Handel and Telemann written for various combinations of the baroque violin, recorder, violin da gamba and harpsichord.

An extraordinary setting befits the extraordinary music performed by the duo of Ruth Wilkinson (recorders and bass viola da gamba) and Cynthia O'Brien (baroque violin), known in musical circles as Capella Corelli.
Members of Capella Corelli

The emphasis of baroque violinist Cynthia O'Brien's artistic work today lies in the interpretation of solo and chamber music of the Baroque and Classical periods performed on historical instruments.

Currently Director of Ensemble Gombert John O'Donnell studied at the New South Wales State Conservatorium of Music in Sydney and the University of Durham. Since performing the complete organ works of Bach in 1974 he has enjoyed an international reputation as an organist and harpsichordist.

Ruth Wilkinson is a recorder and viol player whose musical expertise and passions are based on the performance of music from the 12th to the 18th century. Her performances have been praised for their musical integrity, imagination and brilliance.