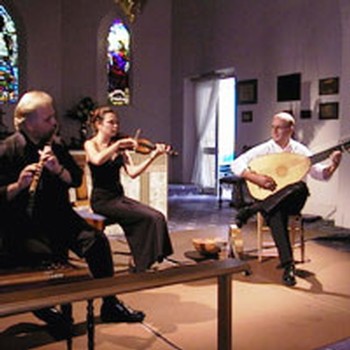 Elysium Ensemble
The Elysium Ensemble has been acclaimed by critics for its exciting performances, fine musicianship and authoritative interpretations of music from the Baroque and Classical repertoire.
It embodies the concept of "elysium" (defined in the 17th century as a state of ideal happiness) by bringing together musicians whose awareness of the stylistic demands of the repertoire is combined with a mastery of period instruments. The ensemble's performances are indicative of the freshness and spontaneity which the musicians bring to this collaboration through discussion, rehearsal, experimentation and research.
Founded in 1985 by its artistic director Greg Dikmans, the Elysuim ensemble has a flexible format, with a small core membership drawn from Australia's leading period instrument specialists that is expanded for larger orchestral works. The ensemble presents an annual concert series in Melbourne that has established its reputation as one of Australia's finest chamber ensembles. It has performed extensively in Australia, including appearances at major festivals, and made numerous live broadcasts and concert recordings for the ABC. The Elysium Ensemble is affiliated with the Early Music Studio at the University of Melbourne.
Artist's website: www.elysiumensemble.com
Elysium Ensemble is featured on the following titles

Venice and Versailles represent the two dominant and contrasting styles of music in Europe during the Baroque period: Venice, the robust, joyous exuberance and barocco character of the Italian style, and Versailles, the refinement, delicacy, elegance and douceur of the French.
Performer
Producer

Intimate music from the court of Versailles and the salons of Paris performed by eminent Early Music ensemble, Elysium.
Members of Elysium Ensemble