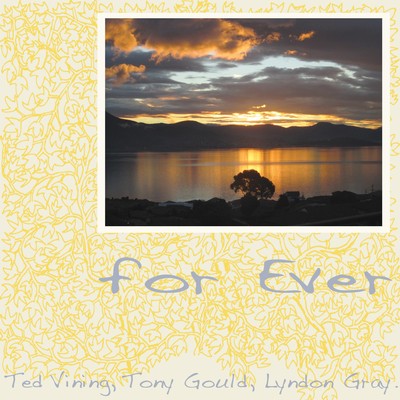 For Ever
The idea for this recording came about after the Alan Lee Quartet reunion concert on the closing night of the 2014 Stonnington Festival in Melbourne, which saw the vibraphonist in collaboration with old friends Ted Vining, Tony Gould and Derek Capewell.
After a thoroughly enjoyable concert featuring the music of one of Alan's chief inspirations, John Lewis and the Modern Jazz Quartet, the audience demanded an encore. Alan and Derek stepped away from their instruments and gave the floor to Ted and Tony to close - in the true spirit of this music, and drawing from a musical empathy shared since the late '60s, they offered a stunning spontaneous improvisation to cap the night.
Enthused by this duo performance Ted saw where his next adventure lay. He approached Tony and suggested that they get together to record a series of such improvisations. Tony was equally enthusiastic and so began the first conversation that would lead to the musical conversations recorded on this disc - and to the creation of a new trio. Ted also invited the eminently versatile and adaptable South Australian bassist Lyndon Gray to partake in this adventure.
Ted's theme for the recording session was that they pay tribute to passed Australian jazz greats with a collection of spontaneous solo, duo and trio improvisations - or, as one of his dedicatees, the late artist-musician-composer-teacher-improviser David Tolley very aptly described, 'spontaneously performed interactive compositions'
Artists

Ted Vining has recorded with Alan Lee, Don Burrows, Bob Gebert, Bernie McGann, Brian Brown, Musiikki Oy, The Big One, Blow ... and The Ted Vining Trio. He has had a wealth of experience both on and off the jazz stage.

Pianist and composer Tony Gould is one of Australia's most respected musicians. His career has embraced many styles of music, not least jazz and other improvisatory musics in addition to traditional and contemporary classical musics. He gives many concerts each year and for 50 years he has been involved in an extraordinary number of recording projects both as pianist and composer and has been at the forefront of music education in Australia via various tertiary institutions in Melbourne and throughout Australia.
Track Listing
Performers
Where to buy
For Ever can be purchased online through Buywell Just Classical or the Australian Music Centre which both offer secure online ordering.
This title is also available in (or can be ordered through) many fine music retailers across Australia, including Thomas' and Readings.
Product details
List price

$25.00 AUD

Total playing time

42 minutes 43 seconds

Release date

September 2015

Copyright

© 2014 Australian Broadcasting Corporation

Phonogram

℗ 2015 Move Records

Category

Catalogue number

MD 3394

Barcode

EAN 9314574339420