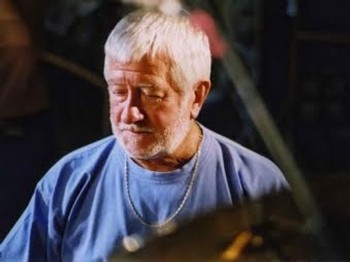 Ted Vining
Ted Vining has recorded with Alan Lee, Don Burrows, Bob Gebert, Bernie McGann, Brian Brown, Musiikki Oy, The Big One, Blow ... and The Ted Vining Trio. He has had a wealth of experience both on and off the jazz stage.
Press quote
"Ted Vining is one of the most exciting, dramatic, and soulful drummers we have ever had in this country."
— John Clare, Sydney Morning Herald
Ted Vining is featured on the following titles

Performer: Drums, Composer
With Tony Gould in Hobart for academic duties at the Hobart Conservatorium of Music, Nick Haywood called me suggesting we grasp the opportunity for a "bit of a play" whilst he was in town. And that we did, with Sound Engineer Stewart Long recording it, as it were, solely for our personal listening pleasure.
Drummer Ted Vining, pianist Bob Sedergreen and bassist Barry Buckley first got together in August 1969, and have played around the world ever since as a high sought-after rhythm section. More about The Ted Vining Trio

Performer: Drums
This live recording of the Ted Vining Trio captures a real performance. The long-running Ted Vining Trio comprises Ted Vining on drums, Bob Sedergreen playing piano, and Barry Buckley on bass. Guitarist Stephen Magnusson makes a special guest appearance on two tracks.
A new collaboration with some of Christopher Young's oldest collaborators — acoustic bassist Nick Haywood (from the Lewis and Young Ensemble) and guitarist Tom Fryer, with the addition of the great veteran drummer, Ted Vining. More about Christopher Young Quartet

Performer: Drums
"One of the most rewarding sessions I've recorded for Jazztrack. Maybe the stars aligned that day...the musicians really listening and responding to each other. It's music that surprises and explores."