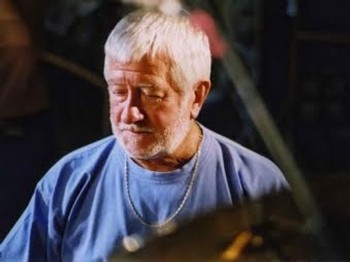 Ted Vining
Ted Vining has recorded with Alan Lee, Don Burrows, Bob Gebert, Bernie McGann, Brian Brown, Musiikki Oy, The Big One, Blow ... and The Ted Vining Trio. He has had a wealth of experience both on and off the jazz stage.
Press quote
"Ted Vining is one of the most exciting, dramatic, and soulful drummers we have ever had in this country."
— John Clare, Sydney Morning Herald
Ted Vining is featured on the following titles

The idea for this recording came about after the Alan Lee Quartet reunion concert on the closing night of the 2014 Stonnington Festival in Melbourne, which saw the vibraphonist in collaboration with old friends Ted Vining, Tony Gould and Derek Capewell.
Performer: Drums
Composer

2 Pinots, 2 Pales and 2 Hours later, with little or no discussion, certainly no rehearsal, five pieces of spontaneous improvised music and three standard compositions were recorded with outstanding results, only achievable when three dedicated jazz musicians get together for the sole purpose of making quality music.
Performer: Drums
Composer
Ted Vining is featured on the following titles

The Christopher Young Quartet presents 10 new tracks by Young and members of the Quartet.
Performer: Drums
Composer
Drummer Ted Vining, pianist Bob Sedergreen and bassist Barry Buckley first got together in August 1969, and have played around the world ever since as a high sought-after rhythm section. More about The Ted Vining Trio

This is the first Ted Vining Trio CD release since the passing of bass player Barry Buckley in 2006. His replacement Gareth Hill, along with Bob Sedergreen and Ted, recorded this album following a very successful tour of jazz venues around south-east Australia during August 2015.
Performer
Composer

This live recording of the Ted Vining Trio captures a real performance. The long-running Ted Vining Trio comprises Ted Vining on drums, Bob Sedergreen playing piano, and Barry Buckley on bass. Guitarist Stephen Magnusson makes a special guest appearance on two tracks.
Performer: Drums
A new collaboration with some of Christopher Young's oldest collaborators — acoustic bassist Nick Haywood (from the Lewis and Young Ensemble) and guitarist Tom Fryer, with the addition of the great veteran drummer, Ted Vining. More about Christopher Young Quartet

"One of the most rewarding sessions I've recorded for Jazztrack. Maybe the stars aligned that day...the musicians really listening and responding to each other. It's music that surprises and explores."
Performer: Drums
Ted Vining also appears on

This is a tribute to revered Australian pianist, praised educator and musical thinker Dr Tony Gould, Australia's first professor of jazz. It comprises an audio CD and bonus one-hour video DVD documentary.
Performer: Drums

Two of the most prized possessions in my collection of albums, CDs and cassettes are recorded performances of the late great saxophonist, Bernie McGann.
Performer: Drums