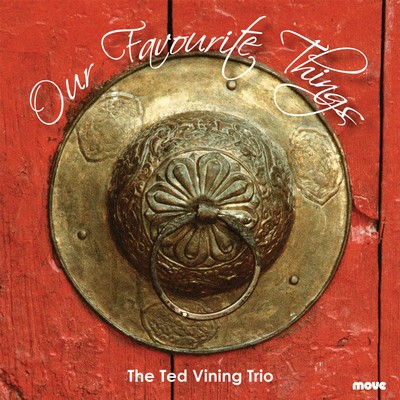 Our Favourite Things
This is the first Ted Vining Trio CD release since the passing of bass player Barry Buckley in 2006. His replacement Gareth Hill, along with Bob Sedergreen and Ted, recorded this album following a very successful tour of jazz venues around south-east Australia during August 2015.
Ted Vining writes: "These are a few of Our Favourite Things – making good music, good food, good wines, a shot of Jack Daniels, and nice enthusiastic audiences.
"We experienced this and more on a recent tour through Melbourne at The Horn, the Jazz Basement in Wodonga, The Gods Café in Canberra, the Whale Motor Inn in Narooma, the Down South Jazz Club in Merimbula, the Wine Bar in Paynesville, back to Melbourne's Uptown Jazz Café, winding up with this recording session at Move Studios.
"Special thanks to Bob and Gareth for their wonderful musicality and ridiculous sense of humour.
We hope this CD becomes one of your favourite things."
Artist

Drummer Ted Vining, pianist Bob Sedergreen and bassist Barry Buckley first got together in August 1969, and have played around the world ever since as a high sought-after rhythm section.
Audio previews
Track Listing
Performers
Composers
Where to buy
Our Favourite Things is available for download from the iTunes Music Store.
It's available for streaming through Spotify and Apple Music.
Our Favourite Things is available as as CD. It can be purchased online through Buywell Music or the Australian Music Centre which both offer secure online ordering.
Move CDs can be ordered through music retailers across Australia including Readings.
Product details
List price

$25.00 AUD

Total playing time

48 minutes 42 seconds

Release date

October 2015

Copyright

© 2015 Move Records

Phonogram

℗ 2015 Move Records

Category

Catalogue number

MD 3401

Barcode

EAN 9314574340129