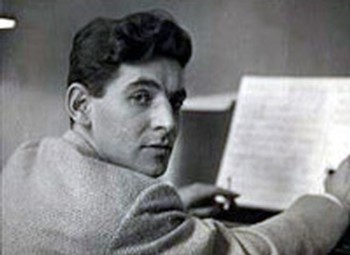 Leonard Bernstein
Larger-than-life Lenny - a phenomenally gifted composer, conductor, teacher, performer; an unflaggingly enthusiastic, brash, enormously complex musician; a man dedicated to breaking down personal, political and musical barriers between people.
In 1947 he extended his hand to the Jewish people in Palestine by conducting the Palestine Philharmonic Orchestra. In 1959 he helped "lift the Iron Curtain in music" (Aleksander Medvedev) in an historical concert tour to the Soviet Union with the New York Philharmonic. He proclaimed his deeply held belief in universal brotherhood - in words on the 40th anniversary of the bombing of Hiroshima, and in music at the historic dismantling of the Berlin Wall in 1989.
But it is above all in breaking down musical barriers that the world will remember him. Bernstein's career was based on two beliefs: 1) Music is fun. 2) Music matters. He confounded those who would keep "serious" music the province of the elite. He gave us the timeless melodies of West Side Story, revealed the delights of "serious" music to the young, and inducted modern audiences into the mysteries of Beethoven, Brahms and Mahler. In a word, he infected young and old, connoisseurs and the uninitiated with his overwhelming love of music.
Compositions by Leonard Bernstein appear on