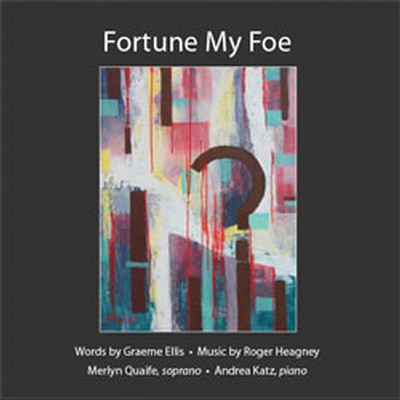 Fortune My Foe
This superb new song cycle by Roger Heagney sets the poetry of Graeme Ellis to music. Soprano Merlyn Quaife is joined by pianist Andrea Katz.
This recording project aims to raise funds for Australian Catholic Religious Against Human Trafficking, a charity passionate about eliminating human trafficking in Australia.
Acknowledgements:
Special thanks to Stephen Snelleman, Margaret and Dave Knight, Nick and Pen Alexander, Martin Wright of Move Records, Martin Buzacott and Pat Sergo at ABC Classics without whose assistance this CD would not have seen the light of day. The artists, poet and composer have all donated their talents for the release of this fund-raising CD. Fiona Horman of Regency Media and Theo Prosenica of PMS Lithography have generously donated the CD manufacturing and booklet printing.
Words C Graeme Ellis 2008. Music C Roger Heagney 2008. Cover image: 'Prayer of St Francis' by Pat Negri. This CD was recorded by the ABC at the Iwaki Auditorium, Southbank, on 20 May 2009.
Producer: Stephen Snelleman; Engineer: Jim Atkins. P 2010 Australian Broadcasting Corporation.
Artists

Merlyn Quaife is a distinguished soprano and performer of great versatility, encompassing opera, oratorio, lieder, chamber music and contemporary music to great acclaim throughout Australia, Europe and the USA.
Track Listing
Fortune My Foe
Words by Graeme Ellis - Music by Roger Heagney
Merlyn Quaife, soprano - Andrea Katz, piano
1 Prelude
2 Love
3 The Good Samaritan
4 Fortune My Foe
5 Variation 3
6 Love Song
7 White Nights
8 Swan's Way
9 The Gods We Worship
10 Saint Cecilia's Day
11 Interlude
Liederkreis Op. 39
12 1 In The Unknown
13 2 Intermezzo
14 3 Forest Discourse
15 4 Silence
16 5 Moonlight
17 6 Beauteous Unknown
18 7 In a Castle
19 8 In the Unknown
20 9 Melancholy
21 10 Twilight
22 11 In the Wood
23 12 Spring Night
Composer

Heagney has gained an international reputation as pianist and harpsichordist. He lectures at the Australian Catholic University and performs regularly with The Academy of Melbourne and Pro Arte Orchestras and at the Melbourne International Festival of Organ and Harpsichord.
Where to buy
Fortune My Foe is available as as CD. It can be purchased online through Buywell Music or the Australian Music Centre which both offer secure online ordering.
Move CDs can be ordered through music retailers across Australia including Readings.
Product details
List price

$25.00 AUD

Release date

2010

Copyright

© 2010 Australian Broadcasting Corporation

Phonogram

℗ 2010 Australian Broadcasting Corporation

Categories

Catalogue number

MCD 435

Barcode

EAN 9314574043525