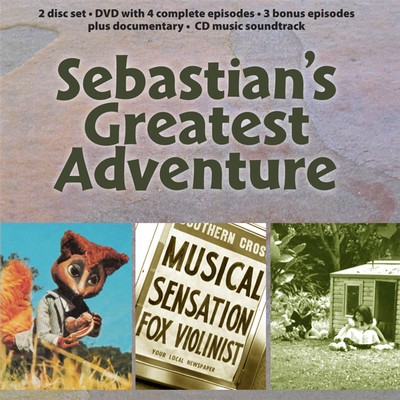 Sebastian's Greatest Adventure
The ABC TV series Sebastian the Fox with George Dreyfus original score. This release contains a DVD with four episodes of the 1963 TV series Sebastian the Fox with a brand-new orchestral soundtrack of George Dreyfus' score.
Sebastian the Fox (1963) was an ABC TV series for children made by renowned Australian film-maker Tim Burstall who went on to direct many other films including Alvin Purple. The original 13 episodes tell stories of the outlandish adventures of Sebastian, a marionette fox operated by the legendary Peter Scriven.

Tim Burstall asked composer George Dreyfus to write the music for the entire series. Dreyfus produced a delightfully quirky, neo-classical soundtrack, as well as the catchy opening theme song. This was ten years before his rise to fame with his beloved Theme from Rush.

Now, nearly 50 years later, four episodes of the classic series have been restored – transferred from original negatives. The music has been newly recorded by the Staatskapelle Berlin conducted by Jonathan Dreyfus. It looks and sounds better than it ever did!

A bonus 45 minute documentary includes interviews with some of the people involved with the original television series. All in all, a fascinating look at an important chapter in the re-birth of the Australia film industry in the latter part of the 20th century. This presentation is a must-see for lovers of Australian music, classic films and family fun.
The DVD includes:
• Four complete 10 minute episodes with newly recorded music:
- The Sausages
- The Showman
- The Doll's House
- The Animal Catcher
• Three extra episodes with original soundtracks:
- The Pirates
- The Sleepwalkers
- The Painter (starring Barry Humphries)
• A 45 minute documentary with interviews
Artist

One of Australia's best known composers, especially the theme from the TV series "Rush", George Dreyfus was recently awarded a the Order of Merit of the Federal Republic of Germany at the Victorian Parliament House, for services to music.
Track Listing
Sebastian's Greatest Adventure George Dreyfus

Theme Song
The Sausages
The Showman
The Doll's House
The Animal Catcher

The Adventures of Sebastian the Fox George Dreyfus

Theme Song
The Doll's House
Playtime
The Potter's Wheel
The Pieman
The Jinker Ride
Lullaby
The Chase
Theme Song (reprise)
DVD:
Sebastian the Fox

The Sausages (new soundtrack)
The Showman (new soundtrack)
The Doll's House (new soundtrack)
The Animal Catcher (new soundtrack)
The Pirates (original soundtrack)
The Sleepwalkers (original soundtrack)
The Painter [feat. Barry Humphries] (original soundtrack)
Documentary with interviews
Performers
Where to buy
Sebastian's Greatest Adventure is available as as CD. It can be purchased online through Buywell Music or the Australian Music Centre which both offer secure online ordering.
Move CDs can be ordered through music retailers across Australia including Readings.
Product details
List price

$29.00 AUD

Release date

December 2010

Copyright

© 2010 Move Records and 1963 Eltham Films

Phonogram

℗ 2010 Move Records

Categories

Catalogue number

MD 3346

Barcode

EAN 9314574334623