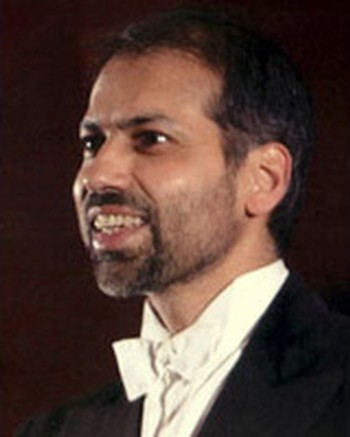 André de Quadros
A Senior Lecturer in the Department of Music at Monash University, Andre de Quadros has responsibility for coordinating the Performance program, and is the musical director of the New Monash Orchestra, the Monash Sinfonia, the Monash Women's Choir and VIVA VOCE.
Andre de Quadros studied the violin from an early age and later studied conducting at the Bombay School of Music under the distinguished German conductor, Joachim Buehler. He then studied at LaTrobe University, the University of Melbourne, the Hochschule für Darstellende Kunst 'Mozarteum' in Salzburg with a prestigious DAAD scholarship, and at the Victorian College of the Arts with the conductor Robert Rosen.
He has conducted and/or lectured in various Australian cities, in India, Belgium, Scandinavia, Canada, Germany, the United States and Japan. Ensembles conducted include the Baden-Baden Philharmonic Orchestra (Germany), the Nusantara Chamber Orchestra (Jakarta), the National Youth Choir of Great Britain, the Irtutsk State Philharmonic Orchestra (Russia), the Shiki Daikunokai Choir and Orchestra (Japan) and the Moscow Radio Symphony Orchestra.
André de Quadros is featured on the following titles

The New Monash Orchestra, under the direction of Andre de Quadros, joins pianist Yuri Rozum, the Monash Women's Choir and VIVE VOCE in an exciting all-Russian program featuring Tchaikovsky's first piano concerto and the rarely heard Song of the Forests by Shostakovich - his first major work for choir and orchestra.
Performer

An exhilirating performance of Rachmaninov's "Paganini Rhapsody" and Beethoven's Seventh by the Moscow State RTV Symphony Orchestra, recorded live in Moscow Radio Hall in December 1998.
Performer

Conductor André de Quadros has assembled six highly acclaimed choirs, the New Monash Orchestra, tenor soloist Dwayne Jones and organist Linda Kent to perform Berlioz' masterwork.
André de Quadros also appears on

The ABC TV series Sebastian the Fox with George Dreyfus original score. This release contains a DVD with four episodes of the 1963 TV series Sebastian the Fox with a brand-new orchestral soundtrack of George Dreyfus' score.
Performer: Conductor

Conducted by André de Quadros, the New Monash Orchestra presents an exciting programme of Shostakovich, Mahler and Beethoven recorded live at the Robert Blackwood Hall.
Performer

'Worlds Apart' features works for piano duet, two and three pianos from both ends of the globe. Includes the first Australian recording of the Bruch 'Concerto for two pianos and orchestra'.
Performer: Conductor