In Memoriam
In Memoriam features John Lewis' piece of the same name in a 4 hand version. Also included is the Suite for two pianos by Martial Solal and several other tracks including, Prologue, Skating in Central Park, Skyline, Under Capricorn, Poinciana, Milano and Epilogue.
In the CD booklet, David Ward-Steinman says the following:
"Rehearsing and recording with Tony was an extraordinary experience for me, and one of the most joyful times in my musical life. We had great fun exploring these pieces, and the symbiotic serendipity of playing off each other's ideas took us both, I think, to places we hadn't been before. We hope the high spirits that went into making this album will be evident to you, the listener."
Tony Gould shares the following: "There is an analogy between the contrasting nature of the two works and our playing styles, which in their own way bring an uncommon if not unique character to the performances. Ultimately, the success of all good music-making lies in a common sense of purpose, the ability to listen, respect for the music, and the sense of adventure so crucial to the spirit of improvisation. It was for both of us a total joy to make the premiere recording of the two major pieces, along with the other shorter works, among them a couple of originals, some played as solos, others on two pianos, and a few familiar works by other composers. It is worth noting that outside the strictly written sections of the Solal and Lewis pieces all the playing was approached in a totally spontaneous way. It is a magical process. We hope that those who listen to this recording will experience some of the sensation which comes with this kind of music-making."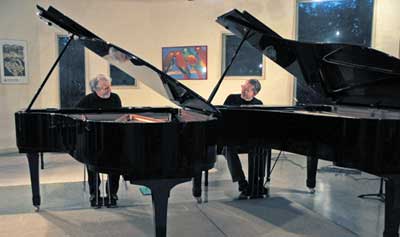 Their enjoyment can be clearly seen from this picture taken during the recording sessions in our Eaglemont studios. Tony is playing a Yamaha C5 Grand Piano, (left) and David is playing the Move Yamaha C7 (right), which is the piano chosen by Tony for our studio and is heard on most Move CDs that feature piano.
Artists

Pianist and composer Tony Gould is one of Australia's most respected musicians. His career has embraced many styles of music, not least jazz and other improvisatory musics in addition to traditional and contemporary classical musics. He gives many concerts each year and for 50 years he has been involved in an extraordinary number of recording projects both as pianist and composer and has been at the forefront of music education in Australia via various tertiary institutions in Melbourne and throughout Australia.

David Ward-Steinman is Professor of Music and Composer-in-Residence at San Diego State University, where he directs the Comprehensive Musicianship and graduate composition programs.
Press quotes
"Gould, one of Australia's finest pianists, teams up with American composer Ward-Steinmann . . . what's striking is the way two pianos merge as one. Even when they engage in the question and response, as on Martial Solal's Suite for two pianos, you hear it as one voice. That's the mark of a great combination"
— Leon Gettler, The Age - Green Guide
"Long regarded as one of Australia's greatest ever Jazz musicians, Tony Gould on this recording is joined by David Ward-Steinmann and the result is music-making of continual excellence . . . The beautifully played shorter pieces, including two attractively jaunty works by Ward-Steinman add to the delight of this splendidly recorded disc."
— John Barns, 3MBS FM Libretto
"Undoubtedly the 'find' of the album is the Suite for Two Pianos by the veteran French jazz pianist, Martial Solal, like the Lewis piece unrecorded till now...Assurance and experience pour out of this album, anyone expecting to hear virtuosity for its own sake will be disappointed as these two players have been around too long to indulge in cheap tricks. They approach their material with respect and thoughtfulness but never do proceedings become dry or academic. They have been clearly recorded by Martin Wright and Vaughan McAlley of Move Records, who provide a recorded ambience well-suited to two players who specialise in shades of touch, not overwhelming power playing. Kudos to all for getting it all to disc, especially the Solal."
Read full review
— Paul Sarchich, Music and Vision
Audio previews
Track Listing
Performers
Composer

John Aaron Lewis (1920 – 2001) was an American jazz pianist and composer best known as the musical director of the Modern Jazz Quartet.
Where to buy
In Memoriam is available for download from the iTunes Music Store.
It's available for streaming through Apple Music.
In Memoriam is available as as CD. It can be purchased online through Buywell Music or the Australian Music Centre which both offer secure online ordering.
Move CDs can be ordered through music retailers across Australia including Readings.
Product details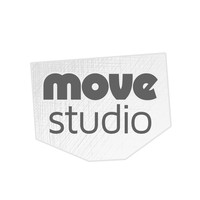 Recorded at the Move Records Studio, Melbourne Australia.