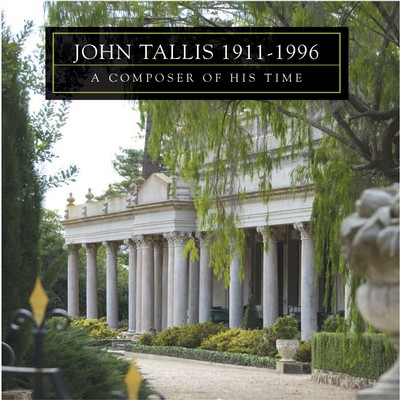 John Tallis 1911-1996 - A composer of his time
John Tallis was born in Australia at the end of the golden era before the world was ripped apart by the horrors of the First World War; his music reflects the optimism of the much vaunted, if unfulfilled, Second Elizabethan Age.
This CD features music for piano (performed by Stefan Cassomenos), violin (Monica Curro), and soprano (Janet Todd), introducing a fascinating, undiscovered aspect of Australian compositional history.
The most significant work here is the inventive and fresh three-movement Sonata, which has a French influence. Stefan Cassomenos handles the juxtaposition of left and right hand motives very skilfully, as well as the forward flow of the interesting links between phrases. And near the end the rapid passages in the left hand with the positive chords in the right hand. The Interlude is a delightful reverie, and the brilliant and scintillating Conclusion, with a big flourish at the end, would not have been out of place in a work by Ravel!

The Fantasy for violin and piano is based on two Aboriginal themes displays excellent rapport between the two instruments. Tallis has clad the inventive theme with a seamless development.
The CD includes a paraphrase of The Sentimental Bloke, also for violin and piano; a Suite in eighteenth century style, seven very short pieces for piano, incidental music to Marlowe's play Edward II, and three delightful songs sung by Janet Todd.
Artists
Press quote
"The recording is clear and spacious and well balanced, and the piano sounds very good.  And I am very impressed by Stefan's playing – fluent, with a sensitive touch and fine judgment of phrasing, as well as what seems to me to be a good grasp of the composer's intentions.  And that goes also for the sensitive violinist, with her faultless intonation."
— Ian Hunt, who shared a mutual appreciation of the significant arts with John Tallis for many years.,
Track Listing
Statement
Interlude
Conclusion
Fantasy for violin and piano John Tallis
Paraphrase: The Sentimental Bloke John Tallis
I. Toccata
II. Allemande
III. Courante
IV. Sarabande
V. Gavotte
VI. Gigue
I. Prelude
II. Little Fugue
III. Valse Caprice
IV. Madrigal
V. Tartar March
VI. Lullaby
VII. Pastoral
Prelude
Prelude to last act
Ballad: The Mountain Snow
March for a festive occasion
Interlude
Epilogue
All Suddenly John Tallis Rupert Chawner Brooke
Lullaby John Tallis Thomas Dekker
Chigi's Song John Tallis
Performers
Where to buy
John Tallis 1911-1996 - A composer of his time is available as as CD. It can be purchased online through Buywell Music or the Australian Music Centre which both offer secure online ordering.
Move CDs can be ordered through music retailers across Australia including Readings.
Product details