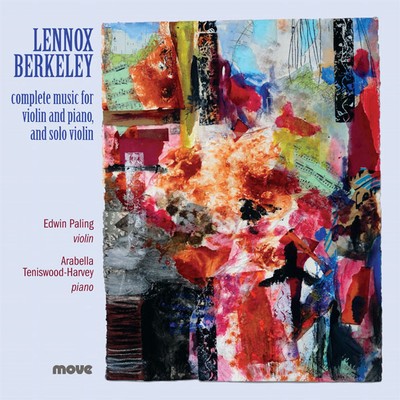 Lennox Berkeley: Music for Violin and Piano and Solo Violin
Sir Lennox Berkeley was one of the most accomplished, creative and respected British composers of the twentieth century. His prolific output of works covers all genres of musical composition including opera, music for the theatre and cinema, symphonic music, chamber music, piano music and a vast amount of choral music.
He admired the music of Mozart, Chopin, Ravel and the neo-classical Stravinsky; formed close friendships with Benjamin Britten, Ravel and Poulenc; mixed with W.H. Auden, Diaghilev, Cocteau, Segovia and Les six; and taught a generation of British composers including David Bedford, Sir Richard Rodney Bennett, Brian Ferneyhough, Professor Peter Dickinson and Sir John Tavener.
Born into an aristocratic family, Berkeley studied French, Old French and Philology at Merton College, Oxford, graduating with a BA in 1926. That same year he met Ravel, who – upon seeing some of Berkeley's scores – advised him to study with Nadia Boulanger in Paris. Berkeley moved to Paris, and was based there until 1932. Largely self-taught prior to then, Berkeley flourished under Boulanger's rigorous tutelage.
During World War II Berkeley worked on orchestral programs at the BBC in London, and then from 1946 to 1968 he was professor of composition at the Royal Academy of Music. Berkeley was given honorary status at a number of universities and professional bodies during the 1970s and 80s, and was the recipient of many honours, including a knighthood in 1974.
Artists

Born in Tasmania, Arabella Teniswood-Harvey studied piano in Melbourne where, in 1999, she was one of the few elite young Australian musicians awarded full scholarship for the prestigious Australian National Academy of Music's inaugural Advanced Performance Program.

Edwin was born in Nottingham, England. After studying violin with Sidney Griller at the Royal Academy of Music in London, Edwin began his professional career playing with the Orchestra of the Royal Ballet, Covent Garden (London), the Bournemouth Symphony Orchestra, the City of Birmingham Symphony Orchestra (Sub-Principal First Violin), then the BBC Midland Light Orchestra (Deputy Leader).
Press quotes
"Real discoveries here, including Sonata No. 1 - lost for 48 years. The Sonatina and Elegy reveal Berkeley's unique charisma. Edwin Paling led the Royal Scottish National Orchestra for over 30 years, while Arabella Teniswood-Harvey is at the University of Tasmania: a fine duo in revelatory performances 25 years after the composer's death."
— Peter Dickinson, Gramophone (Critics' Choice 2014)
"Here is chamber music that is both cultured and approachable. Berkeley's chamber music for violin and piano is beautifully crafted and bound to engage with the listener." ★★★½
— Brett Allen-Bayes, Limelight
"Here are two unknown British violin and piano sonatas on one CD in an amazing rescue operation since Berkeley regularly dismissed his own early music: written in his later twenties, these works again prove him wrong ...The Sonatina is a classic – Berkeley played the piano part himself and it's the only commercial recording he made (Dutton CDLX 7232). These players relish the diversity of the charming variations in the finale. The Elegy is a lovely melody, and in the solo violin pieces Berkeley avoids the aridity which often blights unaccompanied writing. These vivid performances by Paley [sic] and Teniswood-Harvey are outstanding and make the best possible case for a full revival of their discoveries. A revelatory CD, well recorded and documented too."
— Peter Dickinson, Gramophone
Track Listing
Performers
Where to buy
Lennox Berkeley: Music for Violin and Piano and Solo Violin can be purchased online through Buywell Just Classical or the Australian Music Centre which both offer secure online ordering.
This title is also available in (or can be ordered through) many fine music retailers across Australia, including Thomas', Discurio and Readings.
Product details
List price

$25.00 AUD

Release date

December 2012

Copyright

© 2013 Move Records

Phonogram

℗ 2013 Move Records

Category

Catalogue number

MD 3361

Barcode

EAN 9314574336122