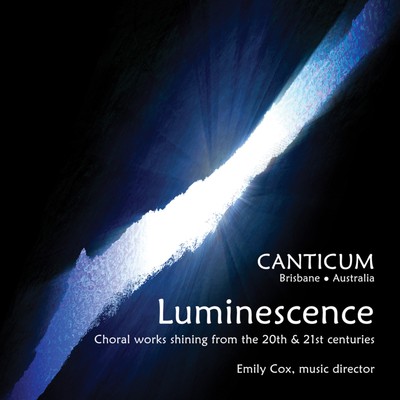 Luminescence
Light is integral to colour, and musical integrity is often described in terms of its colour or luminescence. Celebrating Canticum's 21st birthday year, composers were sought whose music reflects a particular sensitivity to the versatility of the choral instrument and which celebrates beautiful text.
Canticum is directed by Emily Cox, one of Australia's most respected choral conductors and the founding director of Canticum Chamber Choir. The choir is accompanied by Christopher Wrench.
Artists

CANTICUM CHAMBER CHOIR is an independent semi-professional choir based in Brisbane. It was formed in 1995 with Emily Cox as its founding Music Director. The ensemble's members are skilled amateur musicians, some of whom have had formal musical training and others who are professionals in other fields. The choir performs a diverse repertoire from the renaissance and baroque periods through to choral music of late 20th century and contemporary composers, and has been premiered many works. Apart from presenting its own concert series, Canticum has collaborated with professional arts companies, including several productions with the Queensland Ballet and many concerts with the QSO and the QYSO.
Emily Cox has earned a reputation as one of the leading figures in the Australian choral music scene. Music Director of both Canticum Chamber Choir and Brisbane Chorale, she is Lecturer in choral studies at the Queensland Conservatorium Griffith University where she teaches conducting and directs the Conservatorium Singers
Press quote
"What you see here is exactly what you get: contemporary choral music from across the world – New Zealand, Estonia, the United States, Latvia, Norway (sort-of), Sweden, and Australia. The choir Canticum itself is new to me although it has been in existence for 21 years; in fact, this CD is a 21st birthday celebration. With founding conductor Emily Cox, the ensemble is currently in residence at St. Mary's Anglican Church, Kangaroo Point in Brisbane...Cox and her cohorts adopted the over-arching theme of light; in this instance, light generated by sources that need no heat to do their work. This refers, I suppose, to the static nature of scores which, in themselves, have no physical energy. Canticum's task is to generate the luminous – sometimes, the numinous – by their efforts and, for a good deal of the time, this works. Of the 16 tracks, three contain settings of the Maundy Thursday antiphon Ubi caritas, seven comprise the Magnificat-Antiphons of Arvo Part, another is New Zealander David Hamilton's version of the Ecce beatam lucem text best known for its 40-part setting by Alessandro Striggio, and Swedish composer Fredrik Sixten uses the chant Veni, veni Emmanuel in his refugee-remembering The Fleeing Child is Jesus to a text by Norwegian poet Emil Skartveit. The remaining six works fall under the general heading of celebrations of nature, or even God-in-nature. In sum, Cox and Canticum have given us an interesting miscellany including some pieces that are pretty familiar to those who have an interest in the field of contemporary choral composition and some rarities, even for the well-informed."
— Clive O'Connell, O'Connell the Music
Track Listing
Performers
Composer
Where to buy
Luminescence can be purchased online through Buywell Just Classical or the Australian Music Centre which both offer secure online ordering.
This title is also available in (or can be ordered through) many fine music retailers across Australia, including Thomas' and Readings.
Product details
List price

$25.00 AUD

Total playing time

60 minutes 58 seconds

Release date

December 2016

Copyright

© 2016 Canticum Chamber Choir

Phonogram

℗ 2016 Move Records

Category

Catalogue number

MCD 558

Barcode

EAN 9314574055825