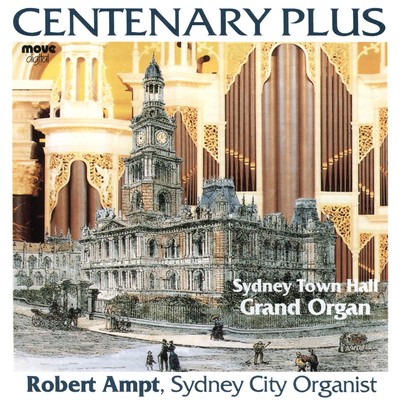 Centenary Plus
Sydney city organist, Robert Ampt plays the spectacular Sydney Town Hall Grand Organ in a program of music spanning over one hundred years of organ music at the Sydney Town Hall.
Includes 'Bach's Air on a G String' and 'Passacaglia and Fugue in C minor'; Handel's 'Overture on the Occasional Oratorio', Koehne's 'To His Servant Bach', 'God Grants a Final Glimpse'; Dubois' 'Marcietta' and 'March Triomphale', Best's 'Variations on "God Save the Queen"' and Ampt's 'Concert Étude on a "Pub with no Beer"'.
Artist

Robert Ampt is the Sydney City Organist and Organist/Choirmaster of Sydney's German Lutheran Church. An active recitalist and teacher, he composes and arranges music for the organ, has written two children's introductions to the organ, and has written an extensive history of the Sydney Town Hall organ.
Press quotes
"A magnificent record of a magnificent organ."
— Victorian Organ Journal
"10 out of 10 to Robert Ampt: and 12 out of 10 to the Sydney organ. Buy this compact disc. I'll wager you'll not be disappointed!"
— Pro Musica, NZ
"If your taste is for things grand ..."
— Bruce Steele, Organo Pleno
Audio preview
Track Listing
Performers
Composers
Where to buy
Centenary Plus can be purchased online through Buywell Just Classical or the Australian Music Centre which both offer secure online ordering.
This title is also available in (or can be ordered through) many fine music retailers across Australia, including Thomas' and Readings.
Product details