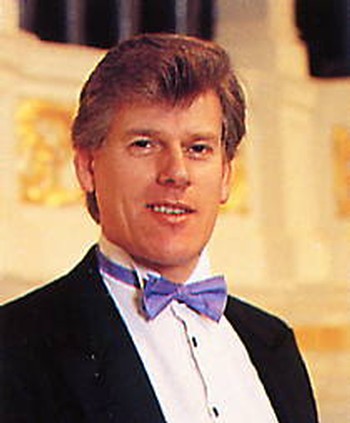 Robert Ampt
Robert Ampt is the Sydney City Organist and Organist/Choirmaster of Sydney's German Lutheran Church. An active recitalist and teacher, he composes and arranges music for the organ, has written two children's introductions to the organ, and has written an extensive history of the Sydney Town Hall organ.
Robert Ampt has been the Sydney City Organist since his return from Vienna to Australia in 1978, after four years of study with Anton Heller.
His many Australian performances, apart from those at the Sydney Town Hall, have included appearances at the Sydney Opera House, the organ festivals of Adelaide and Melbourne, the Arts festivals of Armidale and Goulburn, the Newcastle Cathedral Festival, and the Sydney Festival, as well as many appearances on national ABC radio (including, The Improvisation of Chorale Preludes in 1988 and New Sydney Organs in 1989) and on television. International performing has taken him to Europe, Japan, the United States and to New Zealand.
A former teacher/lecturer at the Sydney Conservatorium, Sydney University and the University of Wollongong, Robert Ampt is the organist and choir master of Sydney's Lutheran Church, a regular lecturer for the WEA Adult Education Centre, and a frequent adjudicator in organ playing competitions. From 1980 until 1983 he was Artistic Director of the City of Wollongong Pipe Organ Festival and in September 1988 directed the first Sydney Organ Academy. He has had prize-winning students in recent Australian organ-playing competitions.
He has published in both national and international organ journals, was the founding co-editor of the Adelaide Organ Music Society Newsletter, and has written an extensive history of the Sydney Town Hall organ.
He has composed and arranged music for organ, including two children's' introductions to the organ: The Magic Forest and Quest for Organoblast.
In his free time he has restored two old houses, enjoys gardening and performs regularly on the stage with the Brook Community Theatre in the Blue Mountains where he lives.
Robert Ampt has recorded with the ABC, Michael Woodward and Move Records. He has now made three recordings of the Sydney Town Hall Organ.
Robert Ampt is featured on the following titles

Christmas at the Sydney Town Hall, presented annually by the City of Sydney, originated in 1978 when Robert Ampt was appointed the fourth Sydney City Organist. Since then the structure and content of this event has evolved into one of Sydney's major Christmas celebrations.

One of Move's all-time best sellers! Sydney City organist Robert Ampt and Amy Johansen perform a program of popular organ duets on the famous Sydney Opera House organ.
Performer: Organ
Composer

Sydney city organist, Robert Ampt plays the spectacular Sydney Town Hall Grand Organ in a program of music spanning over one hundred years of organ music at the Sydney Town Hall.
Performer: Organ
Composer
Compositions by Robert Ampt also appear on

Amy Johansen plays the Rudolf Von Beckerath organ in the Great Hall, University of Sydney. Great Hall Grandeur showcases one of Australia's most beautiful, versatile and exciting pipe organs (one of Rudolf von Beckerath's last masterpieces) played by one of Australia's finest concert organists.
Composer

A collection of 33 short organ works performed on the 1882 T.C. Lewis organ in St George's Uniting Church, East St. Kilda, Melbourne. The collection of pieces on this recording represents a small sample of works deliberately composed for small pipe organs and harmoniums.
Composer

Enjoy the spectacular sound of organ and carillon as you've never heard them before! Recorded at the University of Sydney, this CD features the talents of organist Amy Johansen and master carilloneur Jill Forrest.
Arranger
Robert Ampt also appears on

This CD contains historic recordings made during the inaugural recital series in 1979 when the organ was launched.
Performer: Organ