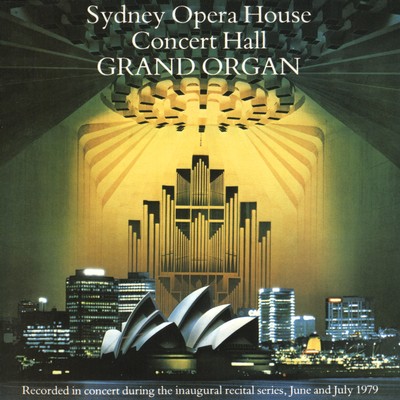 Sydney Opera House Concert Hall Grand Organ
This CD contains historic recordings made during the inaugural recital series in 1979 when the organ was launched.
The Sydney Opera House Grand Organ is in many ways a unique instrument. With 10,500 pipes, of which 2700 can be sounded simultaneously, it is both the largest instrument in the country, and the largest mechanical action organ in the world.
Douglas Lawrence gave the inaugural recital on the Sydney Opera House Grand Organ. He was for many years artistic director of the Melbourne International Festival of Organ and Harpsichord, and was director of the Choir of Ormond College until 2006. He travels extensively on concert engagements in many countries around the world.
Robert Ampt, a student of David Rumsey and Anton Heiller, has been the Sydney City Organist since 1978 and Organist/Choirmaster of Sydney's German Lutheran Church since 1985. His organ and choral music is distributed by Birralee Publishing. He is married to Sydney University Organist Amy Johansen.
Christa Rumsey, who also studied with Heiller, taught, up unto the late 1970s, at the Sydney Conservatorium, and then moved to Adelaide to take up a teaching position there.
Donald Hollier, organist and composer, was director of the Canberra Opera Company at the time of this recording.
A Fellow of the Royal College of Organists, William Pierce was organist at a number of churches around Australia, Director of Music at various schools and Launceston City Organist for many years. He was a well-known recitalist and composer of liturgical music. He died in 1996.
Artists
Press quotes
"Congratulation to Move Records for re-releasing in an expanded form this disc from the inaugural recital series of the Opera House organ in 1979 . . . A spirit of adventure also pervades the performers . . . of particular note is [Donald] Hollier's mercurial account of Liszt's monumental Prelude and Fugue on B.A.C.H."
— Tony Way, The Age - Green Guide
"I consider the disk is a must-have for both the music and the history. I think I'll just listen to it once more before bed."
— David Powis, Plenum Magazine
"What an excellent gesture on behalf of MOVE . . . this is all delightfully played and registered most colourfully on an instrument offering unlimited possibilities . . . the CD also includes excellent notes on the music with further information on the instrument"
— John Maidment, Organ Historical Trust of Australia News, July 2008
Audio previews
Track Listing
Performers
Composers
Where to buy
Sydney Opera House Concert Hall Grand Organ is available for download from the iTunes Music Store.
It's available for streaming through Apple Music.
Sydney Opera House Concert Hall Grand Organ is available as as CD. It can be purchased online through Buywell Music or the Australian Music Centre which both offer secure online ordering.
Move CDs can be ordered through music retailers across Australia including Readings.
Product details
List price

$25.00 AUD

Total playing time

70 minutes 47 seconds

Venue

Sydney Opera House


Release date

2008

Copyright

© 1979 Australian Broadcasting Corporation

Phonogram

℗ 2008 Move Records

Categories

Catalogue number

MD 3030

Barcode

EAN 9314574303025