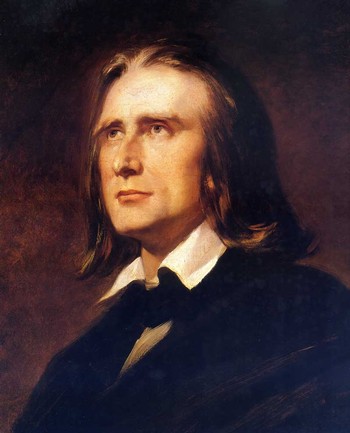 Franz Liszt
Franz Liszt (1811–1886) was a 19th-century Hungarian composer, pianist, conductor, and teacher. As a composer, Liszt was one of the most prominent representatives of the "Neudeutsche Schule" ("New German School").
Liszt became renowned throughout Europe during the nineteenth century for his virtuosic skill as a pianist. He was said by his contemporaries to have been the most technically advanced pianist of his age and perhaps the greatest pianist of all time. He was also a well-known composer, piano teacher, and conductor who contributed significantly to the modern development of the art. He was a benefactor to other composers, including Richard Wagner, Hector Berlioz, Camille Saint-Saëns, Edvard Grieg and Alexander Borodin.
He left behind an extensive and diverse body of work in which he influenced his forward-looking contemporaries and anticipated some 20th-century ideas and trends. Some of his most notable contributions were the invention of the symphonic poem, developing the concept of thematic transformation as part of his experiments in musical form and making radical departures in harmony.
Compositions by Franz Liszt appear on