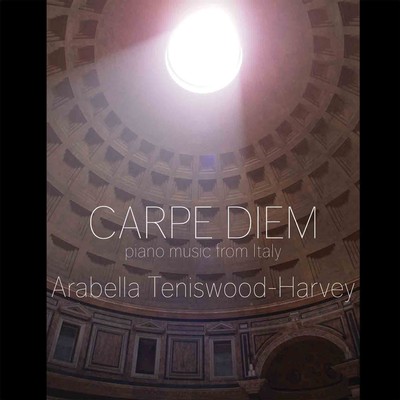 Carpe Diem
This recording celebrates the ongoing attraction of Italy and especially Rome as a place of artistic pilgrimage and inspiration.
It premieres Australian composer Michael Kieran Harvey's Carpe Diem (2015) in context with Italian-inspired solo piano works by signi cant composers of the past, including the Italian composers Ottorino Respighi (1879-1936) and Mario Castelnuovo-Tedesco (1895-1968), the Hungarian Franz Liszt (1811-1886), the American Charles Gri es (1885-1920) and the Frenchman Pierre Petit (1922-2000).
Artist

Born in Tasmania, Arabella Teniswood-Harvey studied piano in Melbourne where, in 1999, she was one of the few elite young Australian musicians awarded full scholarship for the prestigious Australian National Academy of Music's inaugural Advanced Performance Program.
Press quote
"Teniswood-Harvey handles this sometimes arcane material with admirable command. The Liszt work is a restrained reading compared to those recorded by more flamboyant, effect-craving pianists, and its pages are negotiated without interpolated histrionics or nerve-tightening fluster. Real rarities, the Griffes pieces enjoy excellent treatment, their author's uneven key signatures and mutating metres enunciated with an underlying stability that gives the composer great service, especially in his The Fountain of the Acqua Paola and White Peacock sketches more than in the not-as-original Clouds and Nightfall movements.
Both here and in Respighi's preludes, Teniswood-Harvey makes her most eloquent cases. If the Gregorian is undetectable, the virtuosity needed to handle demands on sheer stamina in the middle one and sustaining the elongated tension in the last is impressive. Further, the pianist keeps the preludes' textural complex lucid, particularly in the three-stave spread of the concluding Lento. By comparison, the Petit pieces strike me as amiable atmospheric rambles, the San Carlo section making a striking initial impression for its unexpectedly determined statement while the Galoppatoio bridle path, despite its suggestive title, could be depicting anywhere.
Harvey's work, an injunction to action before it's too late, was written as a birthday present for its current interpreter. Aggressive, restless, packed with notes, it grabs attention straight away – like its composer in action – and doesn't let up, even when the dynamic level sinks. Inspired by the pines in the Villa Borghese gardens, Respighi's opening movement depicts children playing – actually, rorting around the place with no concern for the plant life – and Harvey mirrors the original's frenetic action, although the emotional effect is more serious. At the same time, it offers a final reaction to Rome that brings the disc to a close with a driving contemporary edge. It's all well worth hearing, both for the high quality performances and for the opportunity to hear some illuminating rarities."
— Clive O'Connell, O'Connell the Music
Audio previews
Track Listing
Années de Pelerinage vol. III "Les jeux d'eaux la Ville d'Este" Franz Liszt

Roman Sketches, Op. 7 Charles Tomlinson Griffes

The White Peacock
Nightfall
The fountain of the Acqua Paola
Clouds

Tre Preludi pe pianoforte sopra melodie Gregoriane Ottorino Respighi

No. 1 (Molto lento)
No. 2 (Tempestoso)
No. 3 (Lento)

Onde: 2 Studi per pianoforte Mario Castelnuovo-Tedesco

No.1 Onde corte
No. 2 Onde lunghe

Suite pour le piano Pierre Petit

Pincio
Néréïdes
San Carlo
Galoppatoio
Carpe Diem (2015) Con mote - Meno moss, con rubato - A tempo Michael Kieran Harvey
Performers
Composers
Where to buy
Carpe Diem can be purchased online through Buywell Just Classical or the Australian Music Centre which both offer secure online ordering.
This title is also available in (or can be ordered through) many fine music retailers across Australia, including Thomas' and Readings.
Product details